Meryl Ward, who was made a Member of the Order of the British Empire (MBE) in the Queen's 2013 Birthday Honours List for her work on pig welfare, took over from Stewart Houston as head of the Agriculture & Horticulture Development Board's (AHDB) strategy board for pigs on April 1 this year. Pig World editor Graeme Kirk sat down with Mrs Ward recently to talk about the new role and her thoughts about the future of the English pig industry
---
Meryl Ward's appointment as AHDB Pork chairman earlier this year saw her return to the levy body after a four-year break. She was a BPEX board member from 2003 to 2011, where she played a key role on the welfare outcomes work stream, helping take research into a ground-breaking industry scheme for measuring real welfare indicators in farm animals.
Along with husband Steve, she farms 2,200 sows and a substantial arable enterprise in Lincolnshire, as well as running the successful Uncle Henry's farm shop, restaurant and conference centre that opened in 2006 and is now managed by daughter Emma, one of the couple's three children.
Kicking-off a wide-ranging discussion on her AHDB Pork role, Mrs Ward spoke about the recent changes in the AHDB's structure, but as she explained, this is only the latest part of a strategy that was more or less set out 10 years ago.
"When Peter Kendall took over the chairmanship of AHDB in April 2014, everyone heard the mantra that AHDB was going to restructure to look, feel and behave like one organisation," she says. "It's all been about driving efficiencies and adding value, but people tend to forget that what he's been doing is implementing the recommendations of the Radcliffe Report that was produced by Rosemary Radcliffe in October 2005.
"The report into the role, organisation, funding and function of the statutory levy boards shaped Government thinking on their restructuring, and a ministerial decision in June 2006 set the path for the individual levy boards to be wound up and replaced by one new public body with six sector companies, with all of them being relocated to Stoneleigh Park.
"The Radcliffe Report said the levy bodies should all be in one place because there was the potential for huge savings and enhanced efficiency to be made from background services within the new organisation. She suggested a structure where there was a company that would be responsible for the delivery of the services close to the beneficiaries working within a common framework and common planning and performance monitoring system.
"The levy boards relocated to Stoneleigh in 2008, but unfortunately the planned building never happened and the fragmented distribution of staff across Stoneleigh Park made collaborative working difficult."
Original vision
Meryl Ward says that Peter Kendall's appointment, and the opportunity to bring the levy boards together in one building, gave Defra the opportunity to make progress on the Radcliffe Report's original vision.
"When Jane King started in February as the AHDB's chief executive, she set about trying to understand how the organisation could actually function better. Her task was to look at how the £66 million in levy money collected across the six sectors is used," she says. "She faced the challenge of getting the individual sectors to understand the benefits that they can derive sharing a common planning and performance monitoring system, to improve the efficiency of the business and to make sure that the sectors focus on the priorities that can make the biggest difference.
"Every business, every minute of the day should be thinking about how can I do this better? And in the case of AHDB Pork, it's not just public money that we're talking about, it's pig producer's money. We shouldn't be foolish with it; we should be prepared to challenge what we do all day, every day."
Mrs Ward says Ms King acknowledges there's a lot that AHDB does that it's doing extremely well, but there's also a lot that it could do better.
"I think what she's trying to do is put across the message that you have some great staff here, but they're working within the constraints," she says. "The staff as individuals can only do and achieve within the constraints that are placed on them. What Jane King wants to do is create a better working environment to extract better value out of the existing resources.
"At the end of the day, AHDB has staff of 400-plus and the sum total of its efforts are going to be purely down to how well those staff are performing. It's about designing the strategy and the activities to fit that strategy correctly in the first place, and then making sure that you empower the staff to do the job efficiently and effectively."
As for the actual role of AHDB Pork, Meryl Ward sees an opportunity in the organisation helping shape Government policy.
"We're not allowed to get involved in lobbying, but there's a golden opportunity for AHDB to help provide the evidence that enables Government to make better regulation," she says.
"If we go back 10 or 15 years ago, new legislation kept being introduced leaving a legacy of a highly complex framework of regulation for industry to respond to and manage. The regulator should work with the industry to come up with whatever the interpretation or regulation has to be, but done in a way that's practical so that industry can manage it and work with it.
"We need to find a way to have policy making where you get more carrot and less stick because that drives business and economic growth for the country. Government shouldn't need to have loads of enforcement officers running around trying to enforce things that are, quite frankly, in many cases unenforceable. So, that's a real good bottom-line reason for AHDB being in existence. And I think that'll grow.
"But I also think we need to start working on the EU stage – AHDB can't work in isolation in Britain. From a research perspective, we have to know what's happening in other countries so we don't duplicate what's going on elsewhere, and we have also got to provide evidence to move the European legislators in the right direction.
"We need a bigger voice to do that, and that's a role AHDB can fulfil – speaking as umbrella voice on behalf of the UK's agricultural industry.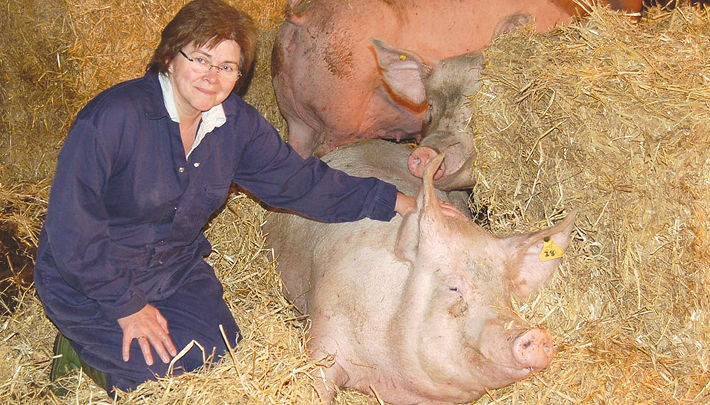 Heavier carcases
Another issue that Meryl Ward is passionate about is that the processing industry needs to change to deal with the heavier carcases that today's pig genetics are capable of producing without any detriment to the meat that's sold.
"We should be able to butcher a pig to suit whatever's required," she says. "If you go back, say, 15 years, our industry was completely constrained because we were producing a pig of between 70kg and 75kg deadweight because that fitted a Tesco tray for pork chops and its requirement for rind-on bacon. The whole industry was driven down a particular weight of pig, and particular breed of pig, for one product and supermarket.
"We should have a much broader outlook on how we market our pigs. There's a growing export trade for various parts of the pig. We've developed the food service market and we've delivered different ways of butchering pigs. So the whole delivery of pigs into the factory is driven by a different rationale to where we were in the past.
"This issue is at the heart of how to make our industry competitive. From an economy-of-scale point of view, we should actually drive our carcase weights as high as we possibly can. With the genetics that we're now dealing with, we can actually produce pigs at higher weights that still meet the required probe. Weight is an area that benefits everyone in the chain.
"I think that genetic potential and the opportunity for supply chains to work together are exciting areas at the moment in pig production," she adds.
Huge potential
Meryl Ward is also confident that there's huge potential for the British pig industry to grow to make use of the extra production.
"We're less than 50% self-sufficient," she says, "and we've got exports that currently stand at £370 million, that's 10 times what they were 10 years ago.
"We have an enormous opportunity because our products are recognised to come from one of a small band of countries operating at the very highest welfare standards.
"There's a growing affluent population in the world and it wants products that are distinctive, have high-welfare credentials and high-quality characteristics."
And despite moves in Northern Europe to increase pig welfare, Mrs Ward says it'll take some time for other countries to catch up.
"It's taken us 15 years to get to where we are, so our competitors are going to take a considerable time to match our standards," she adds. "We've got a massive head start in terms of our ability to market high-welfare, differentiated pigs produced to our Red Tractor standards that are second to none."
And Mrs Ward says it's important to remember that this high-welfare pork status isn't restricted to pigs raised on straw.
"This isn't about straw or slats," she adds. "This is about the headline measures that are game changing on welfare. It's about not castrating; it's about having no sow stalls; it's about providing our sows with sufficient enrichment that it provides the proper fibre and feed intake for the size of the animal. It's about stocking densities and then using welfare outcome measures to monitor the benefits.
"We've got millions of animals now measured through welfare outcomes, no other country has got that. The whole the point of welfare outcomes is to measure the care and treatment of the pig. That's why we're in the number one spot, and that's why we're the land of opportunity.
"We've got arable farmers wanting to invest in pig farming now, which is brilliant, and we've a retail sector that wants to buy British, with many of our supermarkets now committed to 100% fresh British pork.
"The only thing that's stopping them doing the same with their processed product is working out the logistics on how they do that. We're in a land of opportunity, we've just got to put the jigsaw together."