On a global scale, it seems pork prices have been relatively stable for a while. Based on prices from the four major exporters (the EU, US, Canada and Brazil), the average pork export price remained around $2.64/kg between October 2017 and March this year. However, this apparent stability masks dynamics on the individual markets, which mean the situation has not been as steady as it appears.
Significantly, in dollar terms, prices for EU exports rose strongly at the start of 2018, whereas prices from the other key exporters fell. The average EU export price rose from around $2.73/kg in late 2017 to $2.80/kg in March 2018. This follows the relative strengthening of the euro in late 2017 and early this year, reflecting the positive economic outlook and low political risks considered at the time. As such, in euro terms, the average price actually dropped about two cents over the same period.
Overall, this means that, relative to the global average, the price competitiveness of EU pork exports has been at its lowest since 2013. This, combined with higher global production, has likely contributed to the year-on-year decline in EU pork export volumes recorded in Q1 this year.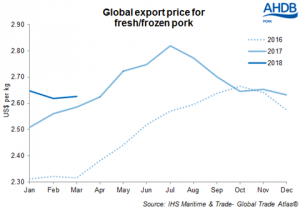 Bethan Wilkins, an analyst at AHDB Pork, said: "Looking forward, a number of political factors currently in play could alter the relative competitiveness of the key exporting nations. Concerns over the political situation in Italy and the possibility of a trade war escalating between the EU and US have seen the euro fall in recent weeks, which should help support EU export prospects. How trading relations between the US and EU develop in the coming weeks will remain key for the currency outlook.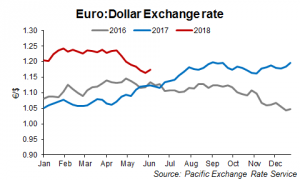 "Developments in US trade policy will also have a direct influence on the global pork price outlook. Since April, US pork has been disadvantaged on the Chinese market by an additional 25% import tariff, and now Mexico have also implemented tariffs on US pork. This could significantly limit US pig price prospects. Although so far, the impact on US futures prices has been limited, suggesting there is optimism that continued trade negotiations may be able to overcome the news.
"Nonetheless, if Mexico does persist with implementing these tariffs, the repercussions could be significant. While US trade may be at risk, opportunities could open up for other exporters to displace the US product, altering the supply and demand balance in the key exporting nations (read more here). Politics therefore has a key role to play in the global pork market for the rest of this year, making the outlook increasingly uncertain."