Leading UK pork producer and processor Pilgrim's UK is investing £5 million in a series of operational and sustainability enhancements to increase efficiency and capacity at its Kings Lynn factory, in Norfolk.
The site has delivered a transformation programme over the last 24 months to improve yields, efficiency and reduce waste, while embedding a culture of continuous improvement to make it a world class centre of excellence for sliced cooked meats, Pilgrim's said. The new technology is expected to increase outputs by as much as 15% per week.
The site has invested £800,000 in automation in its packing facility to accommodate developments in the sector. This flexibility allows the site to pack single or combi packs through one system, with the aim to speed up packaging lines by 12% to produce over 3 million packs per week.
The investment also includes a first-of-its kind, new industry-leading meat slicing and packing technology in the UK, which has increased the line capacity by 25%.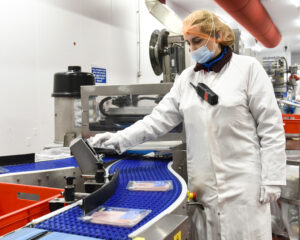 In addition, the Kings Lynn site is investing £600,000 to drive greenhouse gas and energy reduction across the site. This has included replacing the site's vehicle fleet with electric alternatives, and supporting upgrades to refrigeration plants and LED lighting across the site – all of which support Pilgrim's UK's 2030 strategy, which provides a roadmap to net zero for the business' own operations by 2030 and across the entire supply chain by 2035.
The site has also committed to reducing plastics going direct to incineration and, so far this year, has saved 31 tonnes of plastic.
The company said that, as well as contributing to its greenhouse gas reduction plan, this investment forms part of its efforts to maximise operational capacity across its sites, while unlocking the potential to delivering even more innovative products to its customers.
Dave Parker, site director at Pilgrim's UK, said: "We have put a tremendous amount of effort and focus into our packaging lines to enhance our sustainability credentials.
"This investment forms the next step in our commitment to the ever-evolving UK market. I am really proud that the site is continuing to set high standards in efficiency and increasing its capacity to meet the demand, not just in our business, but across the industry.
"We've always got an eye on the future, looking for ways to improve what we do, responsibly and sustainably."