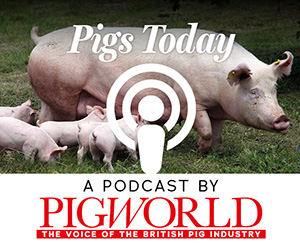 In this month's episode of Pigs Today, a podcast brought to you by Pig World, host Lydia Turner chats with Young NPA members Flavian Obiero and Lee Thompson about the ongoing pig industry crisis, the situation with feed and the wider mental implications of what's going on.
Flavian, originally from Kenya, talks about life as a young farmer and his brand new pig farming role in the industry. He discusses the first farm he ever worked on, how he fell in love with the industry, and how pig farming is truly a lifestyle, as well the industry's current issues.
Lee Thompson, pig and poultry specialist at Harbro, chats about the current situation in the feed industry, offering insight what lies behind the current issues and the ever-growing problem of high feed prices and poor pig prices.
Flavian and Lee go onto discuss the mental issues many across the industry are currently facing, offering their opinions on how to approach the situation and plenty of useful advice for all in the pig industry.
You can listen to the podcast now on all major podcast platforms or via the following link: https://anchor.fm/pigs-today/episodes/The-industrys-mental-health-and-more-e1dekb2 
Don't forget to leave us a review and subscribe for more Pigs Today!