Imports of pigmeat to the UK increased by 9% to just over 800,000 tonnes in 2022, while UK export volumes were up 7% to 373,000t.
While overall pigmeat imports increased by 69,000t, volumes of fresh and frozen pork imports were virtually identical to 2021, with a slight decline in fresh product being largely displaced by an increase in frozen pork.
The increase was driven by higher volumes of bacon, up 19% on 2021, and sausages, up 22%, coming into the country.
The UK's biggest sources of imports continue to be the Netherlands, which increased its shipments to the UK by 28% (36,800t) last year, and Denmark, which, in contrast, saw import volumes fall by 6% (11,400) continued decline in a trend of decline that was first established in 2017.\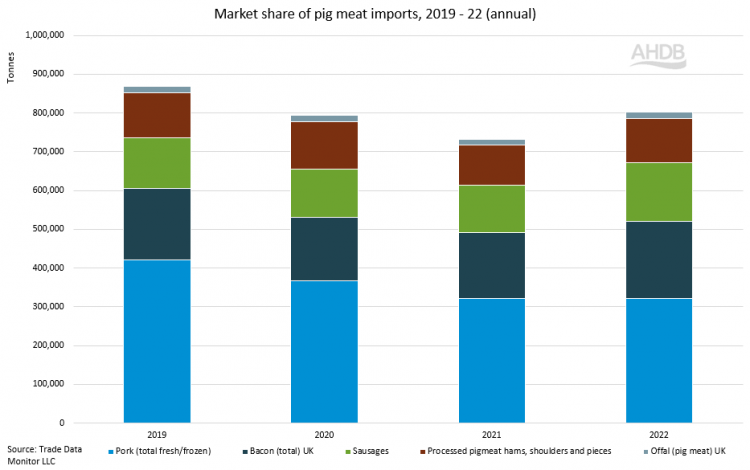 One notable trend, however, is that monthly import volumes generally eased as we moved through 2022. The December figure of 63,500t was 10% (6,734 tonnes) down on November and 8% down on December 2021.
Exports
The 7% increase, 23,000t, in export volume to 373,000t was largely driven by offal shipments, which were up 13%, 17,000t. Elsewhere, bacon exports increased by 6,600t, up 64% from a low base, while, similarly, processed pigmeat shipments were up 18% (2,400t).
Fresh and frozen export volumes fell slightly, driven by a big dip in frozen shipments, while fresh pork exports increased, possibly influenced by a shift in key markets.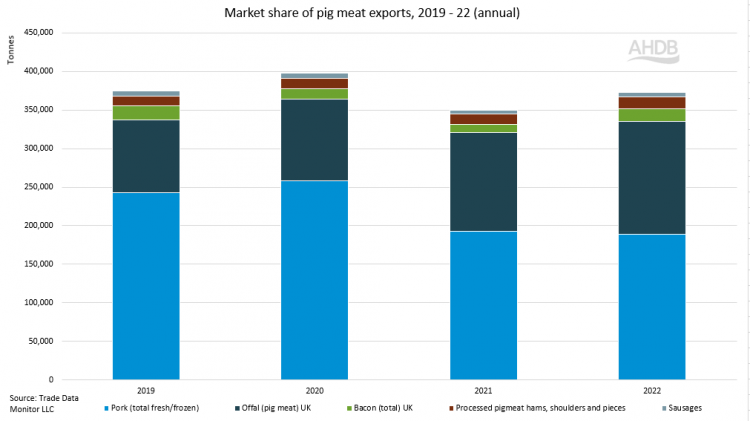 Total volumes exported to the EU were up 29.5% when compared to 2021, a recovery following the Brexit-related dip, but volumes exported to China were 14% (21,000t) down on 2021.
China remained the largest importer of pork from the UK, however, taking 126,723 tonnes last year, worth almost £203m.
The Philippines remains the third biggest importer of pig meat from the UK, with exports up 33% to 33,861t, worth £52m. Shipments to the US also increased with last year's exports worth almost £28m.
Red meat export value
Overall pork exports were worth £623 million last year, 10% up on 2021, as the value of the UK's red meat exports reached its highest levels since records began, £1.7 billion, partially driven by the rising prices of meat.
According to the latest data from HMRC, the total value of red meat shipments increased 22% year-on-year – with over 609,000t exported around the world, up 9%.
The trend was driven by beef exports, which were up nearly 46% to £640m on the back of the recovery of trade with the EU. Sheep meat exports were valued at £503m, up 13%.
AHDB international market development director Dr Phil Hadley said: "We are thrilled by these latest figures, which show 2022 was an incredibly strong year for all three of our red meat sectors, with values at their highest since records began in 2009.
"Last year, we saw strong growth in some of our key target markets, such as Canada, Japan and Europe, which remains the UK's most valuable market. We also saw new opportunities created for pork exports to Chile and lamb to the US, which both have the potential to help bolster these figures over the coming year."