Production in March dropped 4.3%, according to the latest figures from Eurostat. As a result, production for the first quarter of this year was down by 0.7% (-42,400 tonnes) at 6.14 million tonnes.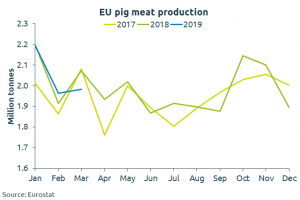 When looking at the data on individual country basis, some of the major players in pig meat production in Europe recorded large declines in production during Q1. Germany in particular recorded a drop in production of 3.8% compared to last year.
On the other hand, Spain is bucking the trend with a 3.5% rise in production. However, this was not enough to compensate for the larger declines across many EU nations.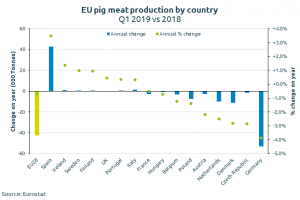 AHDB analyst Felicity Rusk said: "The numbers of pigs slaughtered across the EU fell by 2% on the year during Q1, driven by almost a 7% drop of in the slaughter pace during March. However, higher average carcase weights across the quarter resulted in a more muted decline for pig meat production."
The drop off in slaughter pace is not surprising, as the latest forecast from the EU Commission expects slaughter to fall by 3% in the first half of the year. The decline is likely a reflection of the shrinking EU pig herd. In December, the number of female breeding pigs in the EU declined by 3%, with a marked decline in in-pig gilts.
Ms Rusk said: "Tighter production comes at a time when the EU prices are on the rise, supported by increased import demand from China. However, the smaller supply of slaughter pigs has also supported EU pig prices in recent weeks."