The British pig sector finally moved back into the black in the second quarter of this year, after 10 successive debilitating quarters, during which the industry racked up debts estimated to be in excess of £750 million. 
AHDB's latest net margin figures show pig producers made a profit, on average, of £22/head between April and June. That was up from a narrow loss of £1/head in Q1 and a massive improvement on the figure of -£52/head during the equivalent quarter last year, which followed an average loss of -£58/head in Q1.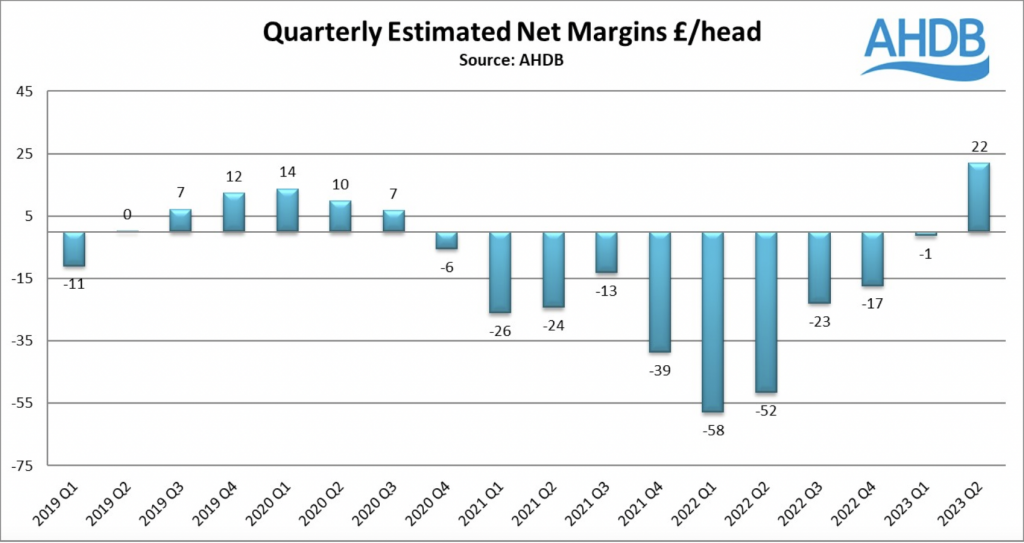 The full economic cost of production for Q2 2023, based on performance figures for breeding and finishing herds, was estimated at 196p/kg deadweight, down by 17p/kg from the 2023 Q1 estimated figure of 213p/kg. That was driven by a 17p reduction in feed costs, which at an estimated 123p/kg, made up an estimated 63% of total costs, the lowest percentage since Q3 in 2020.
However, interest rates continued to rise in Q2 2023, which put pressure on costs associated with buildings, mortgages, and any related finance.
Pig prices have risen throughout Q2 2023, up 10p to 221p/kg (APP), and up 13p to 221p/kg (SPP), resulting in a net margin, based on the APP, of 25p/kg, or £22/head, the highest figure since Q3 2020.
Within that industry average, individual performance will vary significantly, depending on a range of factors, including pig contracts, the extent to which feed prices were locked in a higher prices and other efficiency and cost differences.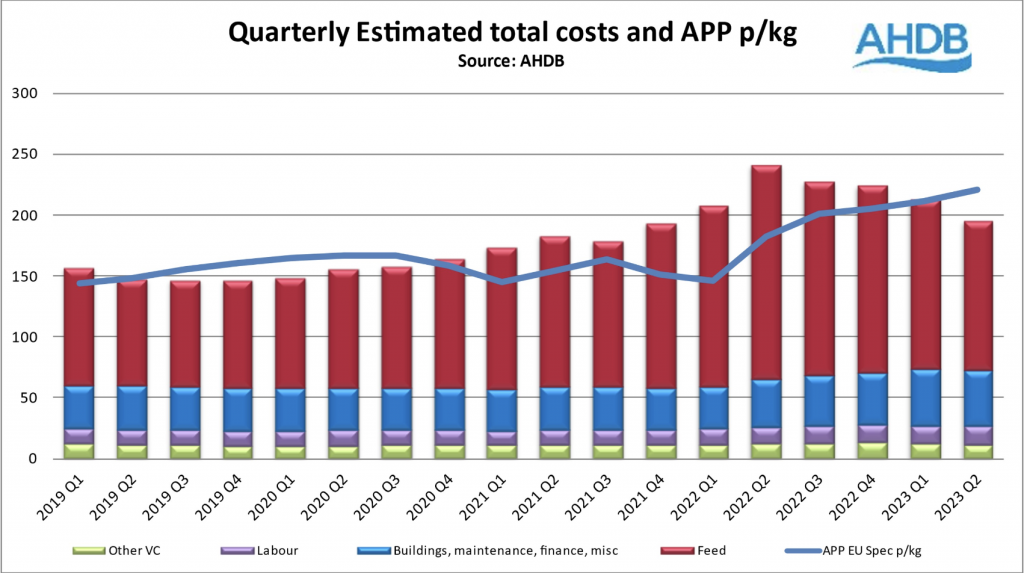 Since the end of Q1, pig prices have continued to rise, with the SPP now at 225p/kg, but feed costs rose rapidly since the end of the Black Sea Grain Deal was confirmed in mid-July, although they have dropped back since, with November feed wheat at £196/tonne today, after hitting around £215/tonne in late-July.