The National Pig Association (NPA) has announced that Ed Barker will be joining the organisation at the start f next week.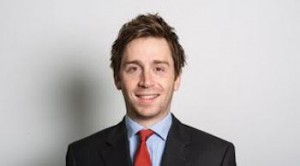 Mr Barker will be taking up the role of our new senior policy advisor on Monday (June 26), after a busy few weeks that have seen him get married and move house.
He arrives with a CV that has combined farming and politics to excellent effect over the past decade. Since 2015, Ed has worked as a farm management consultant for Cheffins, in Cambridge and Ely.
Prior to that, he was well-known as an agricultural advisor for the Country Land and Business Association, based in London, where he was the national lead on agricultural advice for the association's 33,000 members. He represented the European Landowners Organisation at European Commission meetings in Brussels and was the lead within the organisation on the Basic Payment Scheme and CAP reform.
Brought up on a Suffolk farm, with a first class degree in European Politics and an MA in the same subject, he also has 'hands on' experience with a number of agricultural businesses, including the home farm, and has worked as a Parliamentary advisor for Suffolk MP Daniel Poulter.
Best deal
Mr Barker said: "There are massive challenges ahead for the industry and this organisation as we try to secure the best deal possible for the pig sector. I am really looking forward to getting stuck in and delighted to be joining an organisation with such a strong reputation for delivering on behalf of its members."
NPA chief executive Zoe Davies added: "With Brexit and all the other issues facing this sector, we needed to add to our already excellent, but stretched, team and we are very, very happy to have secured Ed's services. His CV speaks for itself and I'm sure he will quickly make his mark in the pig industry."
Ed arrives as an additional member of the team, joining Zoe, policy services officer Lizzie Wilson (currently on maternity leave), senior policy advisor Georgina Crayford and office manager Andrea Vickers.