The first of two NPA autumn webinars takes place this afternoon, providing updates on a range of big issues facing the sector. 
The webinar will start at 3pm and last for approximately two hours. A second webinar will take place on Thursday, October 8, also from 3-5pm.
If NPA members would like to join either event, email Andrea Tranter to register – [email protected]
The webinars will replace the NPA's usual autumn regional meetings, which cannot place due to ongoing coronavirus restrictions.
The NPA team will provide updates on the topical issues, such as the implications of the German African swine fever outbreak, Red Tractor proposed standard changes, the potential impact of EU exit on the sector, pig health and welfare developments, environmental regulation, farm activism and more.
NPA chief executive Zoe Davies said: "The current situation means, sadly, we cannot hold our usual round of autumn regionals, but the webinars represent an excellent alternative means of keeping members up to date on the big issues.
"The webinars we held in the spring were really well attended and we had some excellent feedback, so make sure you put these dates in the diary!"
Pig handling podcast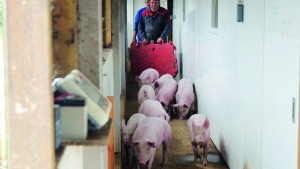 AHDB's latest podcast focuses on the important issue of good pig handling.
In the podcast Mandy Nevel, head of animal welfare at AHDB, speaks to NPA chief executive Zoe Davies, Georgina Crayford, Red Tractor's technical manager for pigs, and Morrisons' head of agriculture Sophie Throup on the subject.
You can listen the podcast HERE
AHDB has recently launched a moving and handling web page.
Red Tractor said maintaining high standards of welfare when handling and moving livestock is important not only for animal welfare, carcase quality and profitability but it is also vital for preserving the public's trust in the UK pig sector.
"It has never been more important that we demonstrate our commitment to meeting consumer expectations at a time of ever-increasing scrutiny," it said.
Led by AHDB, the industry is also developing an online training module on pig handling to address some of the training needs of farmers and stock people working closely with pigs. The ambition is that it will be available by the end of this year.