UK clean pig slaughter reached 961,300 head in November, which is 1% more than the same month in the previous year.
The growth came despite the fact November had one less weekday compared to last year. Reports suggest many major processors worked additional days over the weekend, with both Christmas and Chinese New Year approaching.
The increase in slaughter was driven by Northern Ireland, with the other UK regions killing a similar number to last year:
England and Wales up 0.3% to 769,000 head;
Scotland down 0.6% to 30,000 head;
Northern Ireland up 4% to 162,000 head;
Clean pig slaughter for the year has so far now totalled 9.95 million head, 1% more (110,900 head) than the same period last year.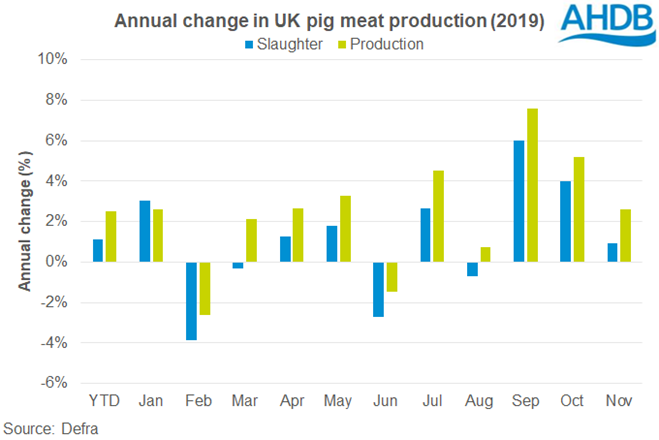 Carcase weight
Finished pig carcase weights in November averaged 85.5kg, 1.5kg heavier than in the previous year. However, weights recorded a marginal decline compared to October.
Adult pig slaughter
Slaughter of sows and boars in November totalled 22,400 head, the same as in the month last year. Cull rates were relatively high last year, and as such, adult slaughter has been considerably lower for most of this year. This may start to change in the coming months, with expectations the age profile of the herd will have risen.
Production
Pig meat production reached 85,500 tonnes, 3% more than in the same month last year. As such, production in the year to November totals 877,600 tonnes, 3% more than last year.