The Prime Minister, Leader of the Opposition, International Trade Secretary and Defra Secretary all pledged to protect UK food and farming standards under future trade deals during today's virtual NFU Conference.
Boris Johnson provided a short video message at the start of event, thanking farmers for 'keeping the UK fed throughout the pandemic'.
"The crisis has tested us all but it also brought a new and wider appreciation of the incredible work that farmers do every day and in all weather," he said.
"Now is the time to embrace the modern new age of farming, building on what we do best with high quality produce made to a high standard, while at the same time harnessing all that farming can do to protect nature and tackle climate change as we look forward to COP26 in Glasgow this November."
He highlighted the how UK farmers were already 'proudly selling more around the world', including 'British beef on American plates, pork trotters on Chinese tables and cheese on supermarket shelves across the Gulf'.
"I can assure you we are pulling out all the stops, while making clear that in all our trade negotiations, we won't compromise on high environmental protection, animal welfare and food standards," he added.
Open Doors
The message was reiterated by Ms Truss, who announced a new 'Open Doors' export campaign for British food and drink.
She said that, as part of the EU, the UK has been 'held back for nearly 50 years by an anti-innovation approach that did not serve the interests of British farmers'.
"We have had high tariff walls with the rest of the world, whether it be up to 26% on beef going to the American market, or a 150% tariff on Scotch Whisky to India," she said.
"But now we have an opportunity as independent trading nation to set our own tariffs and to deal with these issues which have held us back. And we are seizing our freedom to deepen our trade worldwide from the Americas to the Asia-Pacific, where fast-growing economies are set to dominate global demand over the coming years. This is where the real opportunities lie for Britain and our farmers."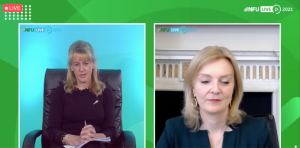 Ms Truss pointed out that UK meat exports were worth nearly £2.1 billion last year – catching up on the £3.5 billion per year paid in agricultural subsidies.
"We can make sure we use the whole animal and achieve carcase balance, as there are many cuts not popular in the UK but command high prices around the rest of the world," the former Defra Secretary said.
"What I want to see is a long-term sustainable future for British farming, based on high standards, competitiveness, and productivity, which satiates the growing demand for our world-class produce."
She said her department would continue to work alongside Defra to remove trade barriers, opening new doors worldwide.
"What we need now is for British farmers and food producers to step through those doors to take on the opportunities which are out there. British food is showing it can compete in global markets, and that freer trade plays to our strengths – which include our high production standards," she said.
But there are two sides to trade liberalisation, a point Ms Truss was challenged in questions from journalists.
But during her speech, she said: "However, what cannot be right is for our farmers to face unfair competition that undermines the high-standards way we produce food and drink.
"I want to be clear, we are not going to lower our food standards in any trade deal we sign. I will never sign a deal that is bad for British farming. We have a range of tools – from tariffs, to quotas to safeguards – to protect farmers from unfair competition.
"And we have kept the agriculture industry close to our negotiating approach through our Trade Advisory Group, which includes organisations like the NFU, like Cranswick, and through regular engagement with farmers and the devolved administrations.
"We also listened to the NFU by establishing the Trade and Agriculture Commission, ably led by the excellent Tim Smith."
New Sustainable Farming Incentive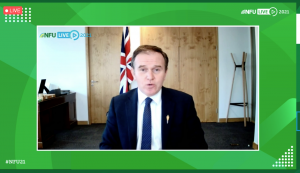 Mr Eustice, who also insisted UK farming standards would not be compromised, said farmers can 'face the future with confidence now that we have left the EU'.
While he acknowledged the pig sector's current problems, which he said were primarily due to export bans by China on pork plants affected by COVID-19, he said many sectors, including beef and lamb, continue to see strong market prices, while the UK's self-sufficiency in food production has increased for the first time since 2014.
He signalled plans to use powers in the Agriculture Act to strengthen the position of farmers in the supply chain and bring transparency and fairness.
He also announced that hundreds of farmers around the country will pilot the Sustainable Farming Incentive from mid-2022. This is a new scheme which will reward farmers for taking actions that benefit the wider environment to create greener landscapes, promote cleaner air and water, and guard against environmental risks such as climate change and flooding.
A  new relationship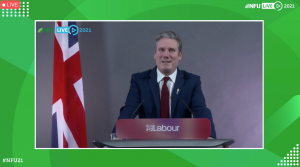 Sir Keir Starmer became the first Labour Leader to address the NFU conference since 2008, setting out why he wants there to be a new relationship between the Labour Party and British farming and rural communities.
He acknowledged how that was' indicative of the perceived distance that's grown up between Labour and the countryside', quoting Shadow Labour Minister Maria Eagle's comment that she identified a sense that Labour saw rural communities as an 'afterthought'.
"And today I want to set out how we can build that new relationship. Because no Party can claim to represent the country, if we don't represent the countryside," he said.
The Labour leader, who visited Minette Batters' farm last year, highlighted Labour's support last year for British farming, 'from fighting for high food standards to protecting family farms'.
He said the high food standards must be maintained in future and recognised 'as a great strength, not as a bargaining chip in trade deals'.
Among his policy suggestions, he said a Labour Government would implement a wage subsidy to create new apprenticeships in farming and other industries and to bring forward planned funding for the Lifetime Skills Guarantee.
It would also encourage people to buy more British food, including seeing if more of the £2.4bn the public sector spends each year on catering could spent with British farmers and British producers.
He concluded: "I'm convinced that there's a lot more we share in common than most people might think. And I can assure you this: From now on, British farming and the countryside will never be an "afterthought" for Labour again."