More than 1,000 breeding pigs from a Northamptonshire farm made the 7,000-mile journey to China last week.
The pigs from Bridge House Farm, 2020 National Pig Awards Indoor Producer of the Year, were transported on behalf of Canadian breeding company Genesus, the largest independent producer of purebred swine globally, with registered populations of Landrace, Yorkshire and Duroc pigs.
A total of 1,030 purebred breeding pigs made the journey from Stansted Airport (STN) to Chengdu Shuangliu International Airport (CTU) in a Boeing 747-8F aircraft on Tuesday, April 27.
Bridge House Farm, Genesus' first UK partner, sent it first shipment of 700 breeding pigs to China last June, the first of its scale from the UK in nearly 10 years.
In an interview for Pig World, Charlie Thompson, who is the sixth generation to run Bridge House Farm, said achieving Export Health Certification for export to China has been a long, complex process, with stringent health testing, as well as the physical logistics.
There are three isolation periods, starting with 30 days on the farm, followed by a further 30 days on a separate site before leaving the UK, then 45 days in quarantine on arrival in China.
The Thompsons converted two poultry buildings to provide a purpose-built 1200-place straw-based quarantine facility separate from the main farm.
The farm uses technology to drive breeding improvements. Pigs are weighed and electronically ID-tagged at birth, enabling extremely detailed data to be collected about the pigs from the start. A custom-made software package records the pigs' performance, which informs what and how much they are fed based on their gender and breed.
Mr Thompson said the use of technology was integral to securing the China trade. "I would not have wanted to do everything we have done without the EID technology we have developed," he said.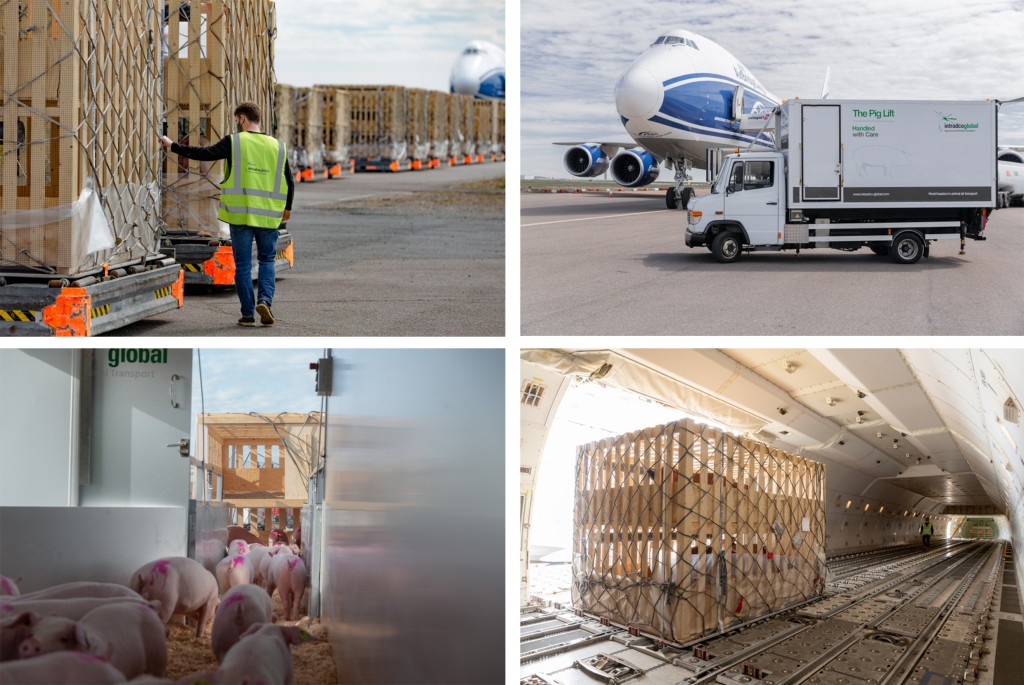 The China market has taken on added importance this year, with live exports to the EU not possible due to the new requirement for border control posts at EU ports from the start of this year. In a BBC interview earlier this year, he highlighted how it was easier to send pigs to China than Europe.
Demand for breeding stock remains strong in China as it continues to rebuild its pig herd in response to its African swine fever outbreak, which is continuing to cause problems.
The 14-hour journey from the UK to China was split up with a stopover in Kazakhstan, during which the pigs had their food and water supplies freshened.
The transport, conducted by Intradco Global, saw its new Pig Lift in action for the first time. This is a truck that has been custom converted to enable the pigs to safely and comfortably move from their transport lorry to their crates.
The front and back are adjustable in height, meaning it can be tailored to suit the varying levels of both the lorry and the crates, meaning the pigs don't have to navigate steep ramps.
Intradco Global said it utilises decades of experience and innovative practical solutions to transport animals safely and efficiently, creating and monitoring controlled environmental conditions including air circulation, humidity and temperature.