March 2022's pork export figures have fallen 3%, in comparison to the figures from March 2021, as  Chinese demand for UK exports falls, writes Meghan Taylor. 
AHDB's figures show that UK pig meat exports (excluding offal) totalled 24,400 tonnes in March 2022: a 23% rise from February of the same year but a 3% fall from March 2021. This brings the total volume of exported meat to 62,300t in 2022's Q1, which still remains 15% higher than 2021's Q1 figure – as January and February 2021 saw fewer exports because of the UK's EU exit.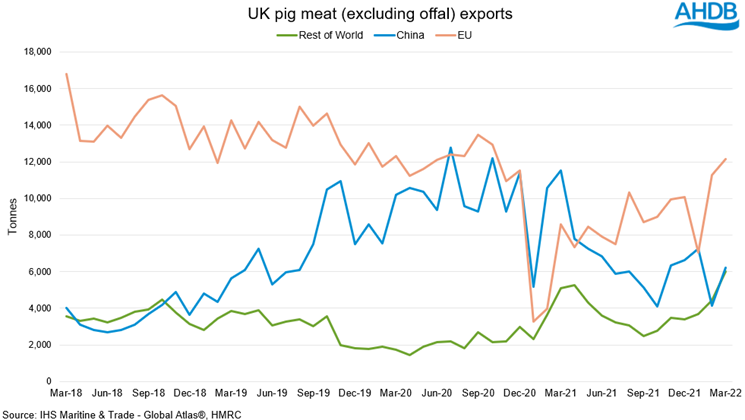 AHDB's dairy and livestock analyst Freya Shuttleworth explained that the drop in March's year-on-year exports has been driven by the reduced demand for UK exports to China. As China has been rebuilding its pig herd since the ASF outbreak, this has resulted in the UK exporting 46% (5,300t) less pig meat to China, compared to 2021.
China's 'zero Covid' policy, aimed at halting the spread of the virus, is also limiting Chinese import demands as well as impacting the fulfilment of shipments due to enforced lockdowns in the country.
On the other hand, the UK's 2022 offal exports for Q1 are up 11% on 2021 Q1. March's UK offal exports totalled 14,700t in 2022, which is a 32% increase since February of the same year and a 19% increase on March 2021.
2022's UK import figures (of pig meat, excluding offal) have also returned to pre-pandemic and pre-Brexit levels. 2022's Q1 imports total 224,00t, with March's figure totalling 71,500t – down 200t from February and up 20% from March 2021.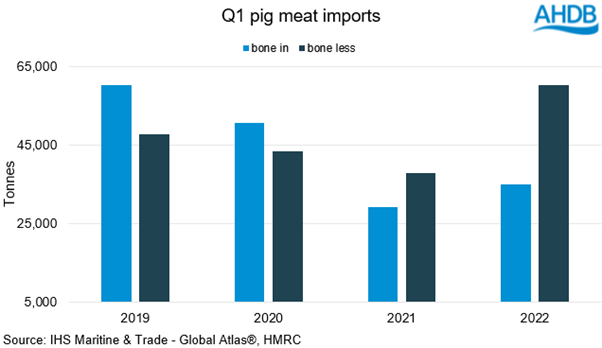 The type of products imported to the UK have also changed. With limited butchery capacity in the UK presently, boneless products were now the most imported products for 2021 and 2022. This is a reversal of the pre-pandemic and pre-Brexit trends which saw more bone-in products imported.