For more than a year, the impacts of trade tensions between the United States and other countries have been felt through markets. Recent developments in relations over the last couple of weeks may change trade flows over the coming months.
On May 20, the Mexican government announced that it was removing the 20% import tariff on US pork with immediate effect. This follows after Mexico, Canada and the US reached an agreement on steel and aluminium tariffs; the goods that originally triggered tensions.
On May 31, President Trump proposed a 5% tariff on all Mexican imports in a bid to curb illegal migration over the US-Mexican border. These tariffs would have come into effect on June 10 and will be raised to 25% on October 1.
On June 8, it was announced that the US and Mexico had reached an agreement on immigration and so plans to introduce tariffs on all Mexican imports were suspended.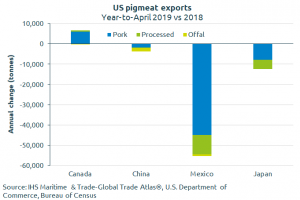 The US exported 848,500 tonnes of pigmeat during the first four months of this year, 6% less than in the same period last year. A drop in exports to Mexico made up the majority of this decline, with shipments falling 19% on the year.
This was a direct result of the introduction of tariffs.  Fresh and frozen pork has made up the majority of the decline. Interestingly, exports of fresh offal have actually increased by 20% to 17,000 tonnes.
AHDB analyst Felicity Rusk said: "With the recent removal of the 20% tariff of US pork announced in May, we are likely to see a lift in export volumes in the near future. It will be interesting to see if exports return to pre-tariff levels.
"Exports from Mexico to the US have actually increased by nearly a quarter compared to last year. This was mainly due to a lift in fresh and frozen products. However, this still only accounted for 5% of total pig meat imported into the US during this period."
US exports to China have also declined due to the introduction of tariffs, however, volumes are only down 4% which is fairly muted considering US pork is now subject to a 62% tariff. Shipments to Japan have also fallen by 8% on the year, due to a loss of market share as result EU-Japan trade agreement.
Exports to Canada, however, have increased this year, by 8% to reach 86,800 tonnes. Again, this is mainly due to increased shipments of fresh and frozen product, although not enough to compensate for the loss of exports to other nations.
US pig market gains on positive sentiment
US hog prices did gain some significant ground earlier on in this year. Lean pig prices (barrows and gilts) in April and May were up 45% and 28% on year earlier levels respectively.  Meanwhile, futures prices have been volatile, rising at first on news of African swine fever in China, and the hope of strong export demand, and then falling back due to a lack of progress in the trade talks.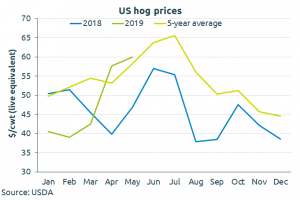 Prices have been supported by stronger demand due to an expanding processing industry. Stronger demand is likely also a reflection of positive market sentiment in relation to the potential lift to exports to Mexico following the removal of the tariffs and to China, due to that nation's pork deficit.
AHDB analyst Jennie Tanner added: "While the US may not be able to full capitalise directly on exporting into China, there is the opportunity to fill secondary demand, as other major exporters direct supplies into China."
Domestically, biosecurity measures against African Swine fever have stepped up. In May, the US Department of Agriculture announced it would begin testing diseased and fallen stock for the disease. This is in the hope that the disease could be contained if detected.