The recent hot weather does not seem to have adversely affected pig performance, in fact this week it may suggest quite the opposite, says this week's Pig Marketing Summary from Thames Valley Cambac.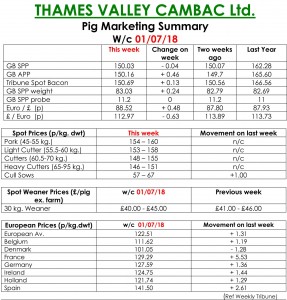 Supply in the previous weeks, however, has been very tight with many producers struggling to hit contract numbers, with the majority of these putting this down to stifled growth rates due the early season health implications. Contract prices generally stood on, with none of the major processors pushing for pig meat until the CO2 shortage, rectifies itself.
The fresh meat market remained steady, but not maybe as busy as we would have hoped, given the particular good spell of weather we are experiencing, coupled with the World Cup, resulting in more BBQ's being lit. Cull sows where up slightly, but not based on demand, only on the back of currency. In Europe, the prices are still behind by unsustainable levels but they did increase very marginally. The Euro ended the week slightly stronger, up 0.48p at 88.52p.
The market for both weaners and stores is currently very thin, according to the Weaner Marketing Summary. What trade there is, is on a mainly stand on basis. However, with finishers just forecasting a few more slaughter pigs to come out in the next few weeks this will potentially increase the demand for weaners and stores but with feed so expensive it is unlikely prices for weaners or stores will increase, unless we see some rest-bite in raw material prices.