New Brexit restrictions have had a 'disastrous' impact on the ability of UK breeding companies to sell their stock abroad, the Farming Minister was told at the Young NPA National event in London last week. 
The event focused on the impact of international trade on the pig sector, with an expert panel featuring Farming Minister Mark Spencer, Shadow Minister Daniel Zeichner, British Pig Association chief executive Marcus Bates and James Webster of The Anderson Centre. The discussion was chaired by NPA chairman Rob Mutimer and  sponsored by A-One and MSD Animal Health.
Charlie Thompson, of Bridge House Farms, in Northamptonshire, explained how his business, a nucleus breeding farm for Genesus, had been hamstrung by the inability to export live breeding stock since Brexit due to a lack of appropriate border control facilities at EU destinations. The business has completely lost its important trade in high value live animals to Europe, but Mr Thompson pointed out that finding solutions had been left in the hands of private businesses and none had been found.
Mr Zeichner said he had 'huge sympathy' for his plight, stressing that 'some of us would never have done this in the first place'. He said this and other related issues, such as the Northern Ireland protocol, needed resolution – but he predicted this would take a long time.
Mr Spencer acknowledged that the Government needed to find a solution, particularly, he said, as livestock were now being sent to Europe via Northern Ireland and the Republic of Ireland. "Government is trying to negotiate with the EU and we need to try and resolve that as soon as possible – it is a two-way negotiation," he said.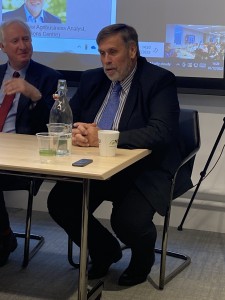 But Mr Bates (left), who is also a director of the UK Export Certification Partnership, which works with Government on market access issues for red meat and livestock, said:
"What's happened is a disaster. I sit on Defra's foreign animal genetic resources committee, and we identified as a possible Brexit bonus the idea that we could make the UK the centre for breeding stock and genetics exports for the world."
"But we are at risk of losing that opportunity. We are two years in and the breeding companies here in the UK have barely been able to export at all. It won't be long before those companies think they should move to another country and that's going to be a very, very sad situation."
He said more effort and some creative thinking was needed to find solutions to the border control post problem, claiming that the valuable and important live breeding animal trade appeared to have got caught up with the wider issue of live animals for slaughter exports.
Was Eustice right on Australia deal?
The panel was asked by HIPRA's Jon McKechnie whether they felt former Defra Secretary George Eustice had been correct in his recent criticism of the Australia trade deal, which he said was 'not very good for the UK', particular its farmers.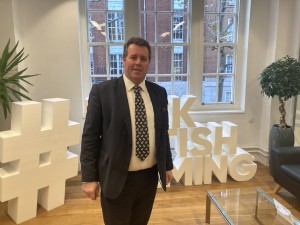 Mr Spencer praised Mr Eustice's time at Defra, but said he 'gently disagreed' with him on the Australia deal, insisting there's a lot be gained for lamb producers, for example, in moving away from EU markets and gaining access to others around the world.
Pork was exempted from the Australia and New Zealand deals, partly because they are not big pork exporters and the impact would have been minimal anyway.
But asked if he could guarantee that the UK pork sector would not be undermined by imports produced to lower standards as part of new trade deals, including the CPTPP group, which includes Canada, and, in time the US, he acknowledged that doing a trade deal with the country where they are still using sow stalls, for example, is 'an entirely different conversation'.
"Certainly, Defra will be very robust in those communications with the Department for International Trade to make sure we do not allow that to happen," he said.
Mr Zeichner, however, said Mr Eustice was right and highlighted the lack of experience within Government at negotiating trade deals. He said there were often trade-offs within these but insisted that we 'shouldn't be doing anything that undercuts UK farms and compromises UK standards'.