US pork exports for the first nine months of 2018 increased by almost 7% year-on-year to 1.3 million tonnes. Meanwhile, Canadian pork exports recorded a fall of 2% across the same period, to 711,000 tonnes.
The increase in US exports, which amounts to 84,500 tonnes, may come as a surprise to some given that additional tariffs have been implemented on shipments to China and Mexico this year. However, the 3% (+286,000 tonnes) rise in US pork production (year to October) has stimulated trade, with higher volumes exported throughout the year.
Despite tariffs now being implemented, Mexico has retained its position as the largest market for US pork, with exports rising by 4% (+18,400 tonnes). More significant growth was recorded to South Korea and Columbia during the first three quarters of the year, with shipments increasing by 41% (+45,300 tonnes) and 49% (+20,500 tonnes) respectively.
In contrast and as expected, the Chinese and Hong Kong markets have withered for the US this year, with shipments to these destinations combined dropping 24% (-30,800 tonnes).
Average pork export prices have averaged below last year's levels for the year so far, leaving the total value of pork exports at $3.4 billion, up by just 3%.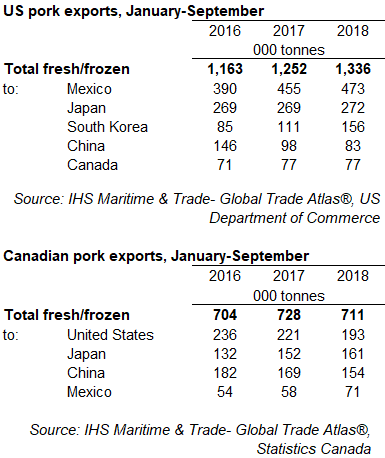 In contrast to the US, Canadian exports have declined throughout the year, though the largest decline was recorded in the first quarter. The US remained the dominant destination, though it took nearly 13% (-28,500 tonnes) less than in the same period of 2017, likely reflecting the rise in US production. Meanwhile, Mexico recorded an increase, of 22% (+12,800 tonnes), perhaps aided by the continued tariff-free access.
Volumes destined for China declined by 9% (-15,700 tonnes) though this was offset by higher shipments to a number of other Asian destinations, including Japan, the Philippines and South Korea.
As with the US, export prices were lower on average, and so the value of Canadian exports for the first three quarters of 2018 fell by 7% to just over C$2.3 billion.