An exciting programme offering something for everyone has been put together for the Pigs Tomorrow Conference, which takes place in Leicestershire in May. 
The event, organised by Pig World and AHDB, will bring the pig industry together for two days of high-level conference speakers and plenty of networking opportunities, including a gala dinner and exhibition stands.  
Recently confirmed speakers include Farming Minister Mark Spencer, via video-link, and John Powell, head of Defra's agriculture sectors team, who will discuss the ongoing review of the pork supply chain, while the conference will also hear from Chris Aldersley, chief operating officer at Cranswick and NPA chairman Rob Mutimer.
As with previous events, Day One will be the International Outlook Conference, covering the global outlook, including a focus on Spain and Denmark, followed by a closer look at the UK supply chain. 
Day Two, the Innovation Conference, will delve into a range of relevant topics, including the latest consumer trends and a focus on maintaining the industry's reputation. There will also be a special Young Guns Guns' panel session and a look at the opportunities available to pig producers under the Animal Health and Welfare Pathway. 
Day 1 – International Outlook Conference
Global outlook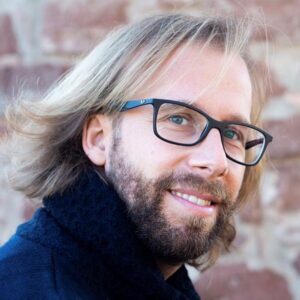 The conference will begin in the afternoon, with an overview of the global pig market from Rupert Claxton, meat director at industry analysts Gira, a leading expert in the global meat market, with a special interest in the Asian sector.
There will then be a focus on two of the most important EU pig sectors, both of which, in different ways, have a big influence on the UK industry.  
Isaac Huerta, PIC's technical services manager (west and south region), based in Catalonia, will provide insight into the Spanish pig sector, which, in recent years, has looked to expand significantly, particularly with a view to the export market.  
Christian Fink Hansen, a director at SEGES Danish Pig Research Centre, will deliver his thoughts on the state of the Danish pig sector, which has been struggling as some of its traditional export markets dwindle. Denmark is, however, starting to focus on the UK again, with Danish Crown's £100 million investment in a bacon plant in Rochdale, due to open later this year. 
UK supply chain

 
The focus will then switch to the UK supply chain, as Mr Spencer addresses the conference via video link.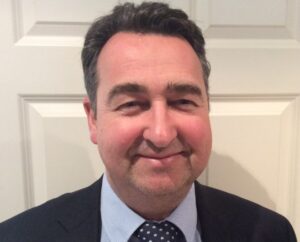 He will provide an update on Defra's ongoing review of contractual practice in the pork supply chain, a theme that will be picked up by Jonathan Powell, head of Defra's Agriculture Sectors Team, who will shed more light on the how review could re-shape how the pork supply chain operates. 
We will then hear from some of the key figures within the supply chain, including Mr Aldersley, who will provide the processor perspective. More speakers will be added to this session, while NPA chairman Rob Mutimer will join the speakers from this session for what promises to be a lively panel discussion.  
Day 2 – Innovation Conference

 
Day Two, the Innovation Conference, will feature a wide variety of topics and also include informative and engaging panel discussions.
Consumer trends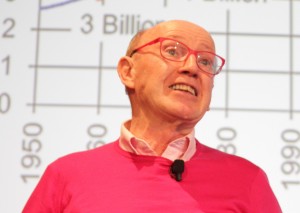 The conference will hear from Dr David Hughes, Professor of Food Marketing at Imperial College London, an entertaining speaker on global food industry issues. 
He will look at how the UK pig sector should respond to changing consumer trends, a theme that will be picked up by Liam Byrne, AHDB's marketing director, who will discuss how to get 'more pork on consumers' forks'. 
There will also be a presentation from Eduardo Velazquez, from principal sponsors, Ceva, who will provide an update on some of the health issues affecting the sector.
Industry reputation

 
One of the key sessions of the day will focus on enhancing the industry's reputation and the best ways to promote it. 
This will feature different perspectives on the pig sector, including leading agriculture PR specialist Amy Jackson, of Oxtale Specialists Communications, who will explore the industry's language and tone on key issues.
Paul Harris, of Real Success, a people management coach for agribusiness, will delve further into developing business reputation and promoting staff progression.
Well-known industry analyst Dominic Charman will talk pig welfare and how we can extract financial value from moving to higher welfare systems.
Young Guns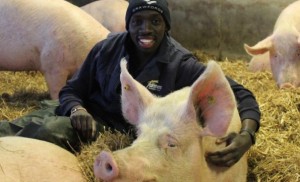 We will be bringing some of the pig industry's brightest future stars together for a 'Young Guns' session.  
Participants include Young NPA vice-chair Flavian Obiero and three young producers recognised in the 2022 National Pig Awards – Fred Allen, Max Campbell and Emma Claxton.
They will discuss how they see the future of the pig sector, including the opportunities for young producers, alongside the barriers they face and what the industry needs to do, collectively, to remove them. 
Pig Pathway
The event will close with a session on the opportunities available for pig producers via the Animal Health and Welfare Pathway, including animal health and welfare reviews and new grants, featuring Stewart Houston, chairman of the Pig Pathway Project Group (PPPG), and Pig Veterinary Society president Gemma Thwaites. 
There will be panel opportunities for delegates to question the speakers during each of the sessions.
You can view the full programme HERE
Read your mind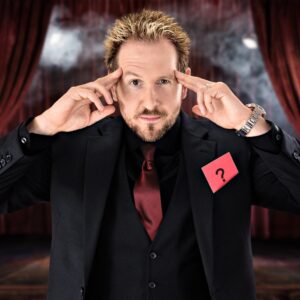 There will be a gala dinner at the end of Day One, with entertainment provided by mind reader Robert Fox.
His mind reading cabaret act is described as 'interactive, engaging, thought provoking and massively entertaining', with his 'incredible ability to decipher people's thoughts, predict their behaviour, along with his razor-sharp wit'.
There will also be, throughout the two days, an exhibition of industry stands and, of course, plenty of networking opportunities.
Ticket Information
Pigs Tomorrow will take place in Hinckley, Leicestershire, in May.
Day one: Levy payers can pay to attend or can register an interest on the Pigs Tomorrow website and a sponsor may be willing to host you.
Day two: The Innovation Conference is free to attend for levy payers.
Full ticket information HERE
For more information about the conference and to register for it. visit: www.pigstomorrow.com
For sponsorship and exhibitor enquiries, contact Martin Goult: [email protected]