Following a 1% decline recorded across the preceding nine months, EU pig slaughter fell again in October.
Throughput totalled 22.8 million head, over 2% lower than in October 2018. Higher weights meant the decline in production was smaller, at 1.5%, totalling 2.11m tonnes.
The ongoing supply limitations will have helped support the elevated pig prices recorded across Europe.
Denmark and Poland recorded particularly sharp year-on-year declines. However, the Danish monthly figures can be volatile and should be viewed with caution. Spain continued to record higher throughput. Germany also bucked the trend seen for much of the year and recorded some growth.
With the sharper decline in October, slaughter for the first 10 months of 2019 was 1.5% lower than the previous year at 213m head. Production totalled 19.7 m tonnes, 1% down on the year.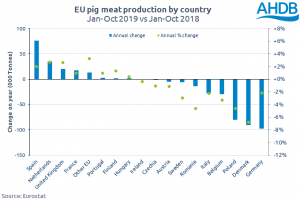 Only a few countries have reported November figures so far, representing about a third of the EU total. The initial figures suggest supplies tightened again in November; the countries involved record slaughter about 5% lower year-on-year. For example, slaughter was down 7% on the year in Denmark and 6% in France.
Developments in Germany and Spain, which are yet to report, will significantly influence the overall trend.