The latest Eurostat figures reported that EU exports of fresh and frozen pork during January and February 2019 totalled 394,400 tonnes, up 8% year-on-year.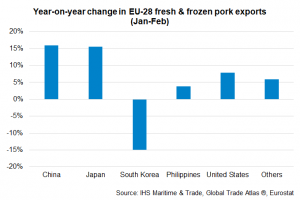 Pork shipments to China were up by 16% (+19,600 tonnes) year-on-year across January and February, more than compensating for the 24% decline (-3,600 tonnes) to neighbouring Hong Kong. Chinese import demand is expected to continue growing this year, as African Swine Fever disrupts local production.
Elsewhere, shipments to Japan were also up by 16% (+8,700 tonnes) and exports to the US were up slightly on the year (+1,700 tonnes). Conversely, exports to South Korea were down by 15% (7,500 tonnes) over the period.
AHDB analyst Hannah Clarke said: "Despite stability in January, pig offal exports from the EU fell by 6% in February, totalling 106,600 tonnes. This brought the total for both months to 211,400 tonnes, down 3% from 2018."
Most of the decline in offal exports was due to 31% (9,500 tonnes) less product sent to Hong Kong over the period. This was enough to offset significant growth to the Philippines (+4,500 tonnes) and Vietnam (+5,100 tonnes). The largest market, China, recorded a more modest 2% (+2,200 tonnes) rise in shipments.
Meanwhile, in its latest Short Term Outlook, the EU Commission has forecasted there will be little change in EU pig meat production in 2019.
Some modest growth is then expected in 2020. This follows a significant increase in output last year (+2%). The stabilisation comes as the EU breeding herd went back into decline last year.
AHDB analyst Bethan Wilkins said: "This reflects low prices, ASF concerns and environmental regulations. However, productivity gains should compensate for this decline. The forecast for pork is in contrast with those for other meats. Both beef and sheep meat production are expected to decline, though poultry could rise moderately."
Rising EU pig prices are expected in response to improving export prospects to China. The Commission expects pig meat exports to grow significantly (+9%) this year as Chinese demand rises. This should mean consumption per capita falls back to 2016/7 levels after it increased in 2018.