EU pork exports will continue to rise, according to the latest European Commission short-term outlook report.
This reflects increasing Asian demand due to African swine fever (ASF). The outlook also suggests EU pig meat consumption per capita is set to decrease by 2% (0.5 kg) during 2019.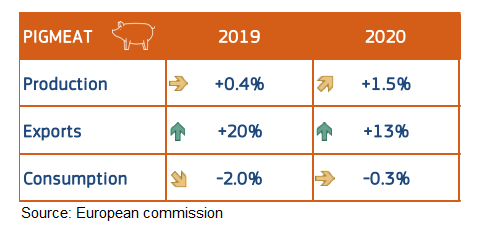 The EU Commission forecasts suggest that ASF will continue to boost EU exports to Asia. ASF has now spread to South Korea, Myanmar and the Philippines. China is predicted to have lost around a third of the total pig herd due to it, as of July 2019 and this figure will likely continue to rise further.
EU exports of pig meat to China grew by 45% year-on-year during the first seven months of 2019. This helped total EU exports to rise by 19% during this period, despite exports to the US dropping by 17% according to the outlook.
China's demand for EU pig meat exports is predicted to continue to grow during Q3 and Q4 2019 and into 2020.
EU pork production is expected to remain stable, with just a 0.4% increase for 2019, though there were reductions in the pig breeding herd in the June Census. Within the EU, Spain has been increasing pig numbers to keep up with the demand created by ASF. Some other countries have been reducing pig numbers due to environmental restrictions and the risks of contracting ASF.
AHDB trainee analyst Charlie Reeve said: "Pig prices for the EU-28 are currently at their highest levels since 2013, due to an increase from March onwards of 2019. These prices are forecasted to continue rising into 2020 according to the outlook.
"In Britain, pig prices (SPP and APP) have been slower to rise. However, in recent weeks prices have seen a more significant boost."