EU pig prices have remained relatively flat in the first few weeks of 2019, while the EU average reference price for the week ending February 3 stood at €133.98/100kg, just 50 cents below four weeks ago.
Tom Forshaw, an analyst at AHDB Pork, said that the price was falling at the same time in 2018, and as a result the current price is now just 25 cents below the same week of 2018.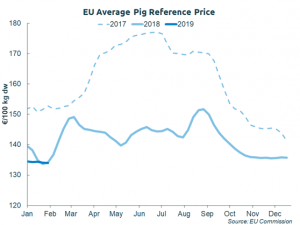 He said: "The flat nature of the prices extended to most of the major pig producing countries in the EU. The reference prices for Germany (€140.32/100kg), Denmark (€127.12/100kg) and the Netherlands (€122.06/100kg) all remained stable over the past four weeks, with all the prices now above year earlier levels by a small margin (€3-6)."
Mr Forshaw said the Spanish price wasn't quite as stable, falling by €1.57 over the past four weeks, but still remains €4.61 above the 2018 price.
He added: "Due to a slightly stronger pound in January, UK reference prices rose by €4.60 in the past four weeks and averaged €160.80/100kg in the week ending 3 February. Despite this, the UK price still remains below (-€4.71) year earlier levels, with UK pork demand reportedly lacklustre in the first weeks of 2019. The gap between the EU reference price and the UK has widened again slightly, to €26.82/100kg."