The number of pigs in England decreased to a 12-year low of 3.6 million in June 2023, as the impact of last year's breeding herd contraction feeds through.
Defra's June census showed the total number of pigs in England was down by 12% over the year. This was driven by a 13% fall in the number of fattening pigs to 3.3m head in 2023, the lowest it has been in the past 10 years.
The breeding herd has stabilised over the past year, however. The overall number of breeding pigs was up fractionally at 329,000 in June 2023, after losing 74,000 head in the year to June 2022, an 18% decline.
The female breeding was slightly lower, however, at 257,000 head, a further 1.5% decline, after, a 16% drop in the year to June 2022.
The number of sows in pig was down 3% to 183,600, but the number of in-pig gilts was up by 8.9% 31,400, while encouragingly, the number of gilts intended for first time breeding was up 8.3% to 63,700.
Other sows, either being suckled or dry sows being kept for further breeding, were down 1.5% to 42,000, and boar numbers on farm were down 6.9% to 8,300.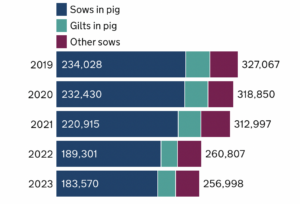 The 13% overall reduction in fattening was broadly mirrored across all age ranges.
Defra noted that decreases in pig numbers were largely seen at the smaller producer level and were likely to due to the industry only now seeing the full extent from the backlog of pigs in 2022, coupled with higher production costs and some easing in domestic demand. The census data showing fall in pig numbers is supported by the reductions seen in slaughterings during 2023.
The latest Defra statistics show July UK clean pig slaughterings were 15% below July 2022 levels at 793,000 head, following an 11% in May, while AHDB's estimated GB slaughterings dipped below 150,000 head again in late-August, 25,000 down on a year ago.
AHDB senior analyst Freya Shuttleworth said: "These breeding pig numbers, particularly the increase of gilts in pig and the number of gilts intended for first time breeding, show signs of a more positive industry sentiment and some cautious growth from producers.
"Although we do not expect to see the industry bouncing back to the heights of 2021 in terms of pig numbers, throughputs and production, if demand remains steady and producer net margins continue on a positive track then we anticipate some welcome growth."
NPA chief executive Lizzie Wilson said: "Defra's latest June census are concerning, but they are not remotely surprising, coming as a direct consequence of the huge contraction of the breeding herd we saw last year.
"This, in turn, came on the back of the biggest crisis in the pig sector's history, and, while the market is now, finally, in a better place, there is little sign of any significant recovery in breeding pig numbers.
"Confidence remains low among pig producers and they now need to see a commitment from the supply chain they will be supported, through good times and bad, with fair prices and stable, longer-ter, contractual arrangements."
She also highlighted uncertainty among producers regarding potential new legislative requirements, particularly around environmental sustainability and animal welfare.