BBC's Countryfile programme provoked a mixed reaction with a feature on how consumers relate to welfare standards on pig farms.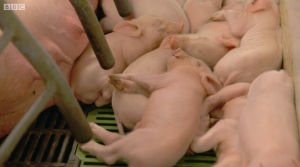 The programme explored what it described as 'the contradiction between what we say we want and what we are actually buying'.
Introducing the feature, presenter Tom Heap said: "Most shoppers still choose cheaper conventional pork, which generally means it was reared intensively indoors. Free range and outdoor bred are marketed as higher welfare but they do cost more and that puts some people off."
The programme featured an anonymous farmer with 550 sows kept indoors, who explained 'why we do what we do', including the use of farrowing crates and rearing pigs on slatted accommodation.
She likened the farrowing house to a maternity unit where humans are looked after with a 'high quality of care'. "This is the same for our sows," she said, adding that the sows are kept in straw yards for the rest of the time. The pigs are 'happy and settled', she said.
Moving onto the weaner accommodation, she refuted Mr Heap's suggestion that they were kept in a 'boring, barren environment', describing it as 'specialist pig accommodation to ensure they are looked after in the best possible way'. The farmer highlighted toys in the pen to satisfy pigs' inquisitive behaviour.
"It is very easy for those who have higher incomes who have the freedom to buy whatever meat that they choose from whatever production systems. But the reality is that most shoppers have a budget that their shopping has to fit into each week," she said, insisting that this does not equate to a compromise in the pig's welfare.
"These pigs are happy and they are healthy and that is the most important thing."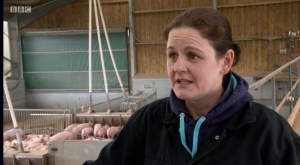 The programme also featured Kate Morgan and showed footage of the straw-based pig production on the Morgan family's East Yorkshire farm. She said it costs £8-£10/pig more to produce pigs on straw, yet they receive the same standard price.
"Retailers are pushing us down to produce a pig as cheaply as possible. If that is the way retailers push us we will not be farming any more. We do not want to be farming on slats," she said, adding that consumers will 'pay a little bit more for something that has had a better life'.
Mr Heap interviewed Compassion in World Farming's Peter Stevenson, who criticised indoor pig production methods and called for Method of Production labelling to be introduced for pig production. The presenter also looked more closely at consumer attitudes towards the welfare standards behind the meat that they buy.
The feature can be view here (after 7 and 27 minutes)
Reaction 
There has been plenty of reaction to the feature. Commenting on the NPA chairman Richard Lister said: "A big  well done to the anonymous lady who appeared on  Countryfile. The pigs looked fantastic and you did a great job in terms of a very biased reportage.
"Unfortunately the BBC has a pre-conceived agenda of Indoor  pig farming and it takes a brave person to challenge that in todays world."
Also on the forum, Nick White wrote: "Well done to the 'anonymous' producer. An excellent performance and some well made points, and the pigs looked great as well!"
Twitter was also lively, with the NPA's Lizzie Wilson managing to sum up the views of many within the industry with this tweet, which was widely retweeted and 'liked' and quoted in the national media: 
"British pig farmers produce pork via a variety of production systems; providing consumers with unrivalled choice. Indoor or outdoor management & care is first & foremost key to welfare. Also there just isn't sufficient land to farm all pigs outside #countryfile"
Vet Rob Dyrsdale replied: "Agreed plus the public purse and retailers need/want/demand a variety of price points for pork, or cheap product imports from potentially poorer welfare/managed system will displace even more. #complexproblem #foodsecurity #backbritishfarming @BBCCountryfile"
Anna Jones, a Countryfile director, said: "It was fascinating to explore the 'Pig Paradox' on #Countryfile  tonight. Whether you prioritise #price, #BritishPork #organic #freerange or you say no to pork and #GoVegan – the market caters for all our beliefs & budgets. That's grocery democracy! #PersonalChoice #NoJudgement"
The Great British Pork Twitter feed added: "Following statements made on @BBCCountryfile  all methods of British Pork production whether that be indoor or outdoor the pigs are reared to the highest welfare standards "
Kate Morgam's sister Vicky said more explanation was needed: "Please, please, please someone pick up on why pig farmers do what we do. The @BBCCountryfile piece last night highlighted the different systems within the industry but didn't give either a chance to explain why we use them. It's about time someone took this on!"
Inevitably there was a mixed reaction among viewers, with some appreciating the complex factors at play in producing pigs, while others were unhappy with the standards on the first farm.
One person, wrote: "Is she mad? Saying the pigs are happy? The mother pig can't even move in that tiny crate. Absolutely disgusting."
Another wrote: "I am not vegetarian but am steadily reducing the amount of meat and diary I eat. If farmers don't like it….tough. Market forces."