Converting to free farrowing systems could cost the UK pig sector more than £200 million, according to a leading buildings and equipment supplier.
ARM Buildings has calculated that the cost for a new house equipped with freedom farrowing style pens ranges from £5,500 to £6,000 per sow, depending on the level of equipment, compared with £3,500 to £4,000 for pens with 'traditional' farrowing crates. This is largely due to fewer pens being fitted into any house of a given size.
ARM estimates that it would cost between £2,000 and £2,600 to per sow place convert an existing building to freedom farrowing. However, because it will contain fewer pens, any remaining sows will have to be housed in another conversion or new build so the cost is likely to average out at £3,000 to £3,500 per place.
Around 246,000 sows are housed indoors in the UK. They would require 55,000 to 60,000 farrowing places, so at £3,000 to £3,500 per sow place, the cost to the industry would be between £165 to £210m, ARM estimates.
In an article in the August issue of Pig World, ARM environment specialist Tim Miller said it was important that the Government is made fully aware of these costs to inform its approach as it examines the future of farrowing crates in the UK.
"The costs, especially for converting existing buildings, are easily under-estimated and it is important that the people drafting the new legislation are aware of this," he said.
Many pig farmers are already installing these systems and the true costs are now emerging. It is not just a case of purchasing new equipment – due to the larger pens, fewer sows will be accommodated in standard-sized buildings so, just to maintain the size of their breeding herds, farmers will have to put up new buildings, even if they convert existing houses.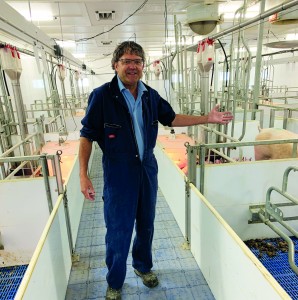 "It is clear that the total cost to the industry, factoring in the extra equipment and other aspects, could easily top £200 million," said Mr Miller.
"Most farmers I deal with are in favour of the higher welfare pens but there should be proper recognition of the eye-watering costs. When sow stalls were unilaterally banned in 1999, the UK industry virtually halved in size and production of pork and bacon was simply exported to the continent where it was produced under the same systems that were banned here," he said.
EU ban
The European Commission has announced its intention to propose legislation by the end of 2023 to ban the use of cages in farming, including farrowing crates, in its response to the European Citizens' Initiative (ECI) 'End the Cage Age' campaign, which is calling for cages to be banned from 2027.
However, the Commission has not committed to a ban within six years. It will, however, 'assess the feasibility of working towards the proposed legislation entering into force from 2027', acknowledging the need for a reasonable transition period.
It has clearly stated producers making the transition will receive financial support, and the UK must do the same if it goes down this route, Mr Miller added.
NPA chief executive Zoe Davies said that, while the UK is yet to make any clear announcement on the future of farrowing crates, banning them as soon as 2027 at EU or UK level was an 'impossible ask'.
"There is no doubt that the transition away from conventional farrowing crates to alternative systems will be the most significant change faced by pig farmers in decades, so it is crucial Government works with the industry to ensure we can retain a thriving pig sector and avoid simply exporting production to countries still using farrowing crates.
"We have been doing a lot of work within the industry and with Defra looking at what the transition would entail and purely from a practical point of view, we believe it will take 20-30 weeks per farm to transition. It is going to cause major disruption to pork supply and we have very few specialist building companies that could do the transition work," she said, also highlighting potential problems with getting planning permission sorted in time.
She said there was 'huge concern' among producers about the practical implications and the costs involved in making the change.
The UK industry would be seeking similar support and protection arrangements to that pledged at EU level, if a UK ban is announced. "On top of Government support, the entire supply chain needs to work together to help producers do this, otherwise more will go out of business," she said.
Processors' view
Nick Allen, chief executive of the British Meat Processors Association (BMPA) said the Government needed to think through the implications of prohibiting the use farrowing crates very carefully.
"It needs to be aware that UK producers could easily be put at a great disadvantage, as they were when sow stalls were unilaterally banned in 1999," he said.
"Meat processing volumes are unlikely to change but price competitiveness is of great concern so a level playing field needs to be maintained. This is particularly important in relation to future trade deals. Thousands, probably tens of thousands, of jobs are involved."