Data from Kantar has revealed that GB retail sales of pig meat products declined almost 4% in volume and 2% in value during the 12-week period ending September 9.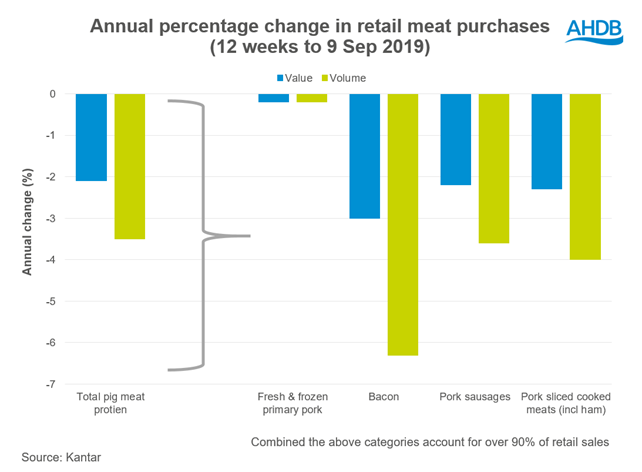 The pressure on bacon didn't let up, with volume sales back 6%, although price increases meant value was only back 3%. Despite this decline in sales, bacon continued to account for around a quarter of all pig meat purchases in both volume and value terms. The share of shoppers purchasing bacon at least once in the 12-week period declined, with the volume per buyer also declining.
Volumes of sliced cooked meats (including ham), a high value category, were down 4%, while spend dropped 2%.
Total fresh and frozen primary pork was more static in sales, although it should be noted this category is smaller than both bacon and pork sliced cooked meats.
AHDB analyst Rebecca Oborne said: "Market penetration for this category declined 3%, although the average volume per shopper increased by 2%, somewhat offsetting the decline in shopper numbers.
"Within the fresh and frozen primary category, mince and roasting joints recorded growth. However, pork ribs, marinades and chops/steaks all recorded declines."