AHDB's latest Pork Outlook report paints a difficult picture for the pig sector, as the market looks set to remain challenging.
UK pig prices are coming come under pressure from falling EU prices, global pork supply and demand issues and, potentially the post-COVID shift from retail to foodservice – and, with little sign of costs coming down significantly, margins are likely to remain deeply in the red for the foreseeable future.
With the labour supply crisis currently compounding the problems, compromising the ability of processors to meet strong domestic demand, the growth of the UK pig is expected to slow during the remainder of this year and into 2022.
You can view the full Pork Outlook HERE 
AHDB forecasts a 6% overall increase in pork production this year, with slaughter expected to reach 11.4 million head, nearly 5% higher than last year, boosted by increased throughput in the first half of the year as processors made their way through the backlog.
However, growth is expected to slow in the second half of the year and slaughter numbers are forecast to fall in 2022, as AHDB estimates a 2% decline in the breeding herd this year on the back of the industry's financial struggles. A smaller breeding herd contraction forecast for 2022.
Production in 2021 is set to be further boosted by a small increase in pigs sold/sow/year and the continuing 'modest' upward trend in carcase weights – giving the anticipated 6% production boost to 1.04 million tonnes in 2021. This is likely to be followed, AHDB expects, by a 2% drop in 2022.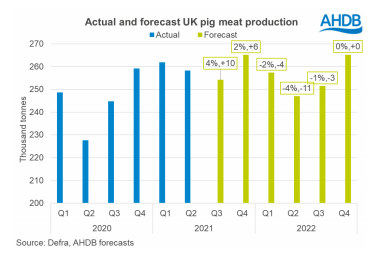 Trade difficulties
In terms of trade, overall pig meat exports (excluding offal) were down by 18% between January and May due to the new logistical difficulties and added costs associated with EU sales and lower shipments to China, as its pig herd recovers from ASF, not helped by the ongoing suspension of Chinese export licences from key plants. In contrast, offal shipments, particularly to China and the Philippines, grew strongly.
AHDB forecasts a recovery in pig meat exports in the second half of the year, although EU disruption and reduced China demand are likely to remain as factors. Overall, 2021 shipments are forecast to be 13% lower than last year.
HMRC data shows EU pork imports were 15% lower in the first five months of the year, due to a combination of Brexit, even though the equivalent checks on pork products from the EU are not yet in place, and a lack of foodservice demand due to COVID-19 restrictions. However, AHDB analyst believe the gradual return of foodservice in the second half of the year is set to boost imports over domestically produced pork.
The shining light has been strong domestic demand for pork – pig meat retail volumes in the year to June 13, 2021 were 4.9% higher year-on-year and up 6.9% on 2019.
While AHDB does not anticipate retail volumes maintaining this level of year-on-year growth as foodservice re-emerges, demand is expected to track above levels seen in 2019.
Price pressure
Pig prices have been on an upward trend in recent months and, with the SPP topping 160p/kg in July, are relatively high in historic terms, although profitability remains 'challenging' due to high input costs.
However, the Outlook report states: "It may be difficult for prices to sustain this upward momentum in the second half of the year."
The report a highlights a number of factors that could put a brake on the prices, including the recovery of foodservice and the increased competition with imports that will result. Meanwhile, falling EU prices, now 27p below the UK equivalent, are making imports ever more competitive.
"At the same time, export demand remains challenged by expected declines in Chinese import demand, and some ongoing difficulties supplying the EU. It is always difficult to anticipate how China's recovery from ASF will pan out, but it does seem likely the peak of this demand has now passed," the report says.
"Recovering global pork supplies may be challenging for the UK and EU, which had been key suppliers, and may not find as lucrative alternative markets for this product."
On the positive side, total demand for pork looks set to remain that way for the rest of 2021. "Nonetheless, it remains to be seen whether this demand will be sufficient, or through the channels most supportive of domestic product, to enable strong British pork prices over the coming months," it says.
Production costs
There is, according to AHDB analysts, unlikely to be much let up in production costs, which reached record levels earlier this year, on the back of soaring cereal and protein prices.
While there are better prospects for the UK harvest, global cereal markets remain strong.
AHDB analyst Duncan Wyatt stressed that 'the heat isn't coming out of the global grain markets any time soon', with significant interest still from commodity investors, and weather issues in some parts of the world helping to maintain current high prices.
Meanwhile, the labour shortages continue. AHDB's latest weekly market report estimated that slaughter in the week ended July 17 was 3.7% (6,400 head) down on the week before, and 10,700 head below the same point in 2020. This is having a knock-on effect, as pigs are increasingly being rolled and, once again having to stay on farm for longer than would otherwise be the case.