Total Brazilian pig meat (excluding offal) exports reached 183,900 tonnes in Q3 2019, dropping 3% (-6,400 tonnes) compared to Q3 2018.
Seasonal trends over the last few years suggest that Q3 is often the highest period for pork exports and production in Brazil. However, this has not been the case this year, with strong growth in Q2 meaning exports in this period reached 197,500 tonnes.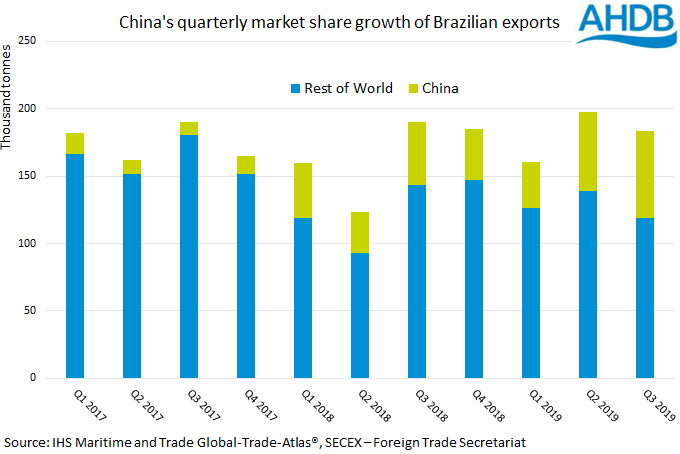 China is becoming an increasingly important export market for Brazilian pork, expanding its market share from 25% during Q3 2018 to 35% in Q3 2019.
Volumes reached 64,900 tonnes, 34% higher than last year. This growth was counteracted by sharp declines in shipments to Hong Kong, Angola and Singapore.
Brazilian exports to Russia also remain significantly lower than before the ban on shipments between December 2017 and November 2018. Volumes only reached 5,000 tonnes in Q3, the lowest quarterly figure since the ban was lifted. Brazilian pig prices have been relatively high in comparison to Russian prices, which may limit the competitiveness of the trade.
Q3 pig offal exports totalled 16,700 tonnes, declining by 25% (-5,700 tonnes) compared to Q3 2018. Hong Kong and Angola, the two biggest export markets for Brazil, both had significant reductions.
Nonetheless, exports of pig meat and offal remain higher across the year overall, up 12% year-on-year between January and September.
Expectations for Brazilian exports in the latter half of 2019 have been mixed. Despite the slowdown in exports in Q3, the USDA expects 20% growth to be achieved in 2019, suggesting a rebound in volumes in Q4.
September alone did grow year-on-year by 4% (+2,300 tonnes) and had a month-on-month increase of 11% (+5,900 tonnes). Further increases in Chinese demand, supported by 'golden week' celebrations during early October and the continued prevalence of ASF in the region, can boost trade. Demand from Chinese New Year celebrations may also support volumes at the end of the year.
AHDB trainee analyst Charlie Reeve said: "Expectations from Rabobank have been more subdued. Its latest report suggests that producers remain sceptical about the outlook for the sector, limiting production growth. Brazilian pork production during Q2 2019 totalled 1.02 million tonnes, an increase of 4% compared to Q2 2018.
"A similar level of increase was recorded in Q1, but figures for Q3 are not yet available. Any limitations to production growth could limit export potential, especially as domestic demand is expected to be improving. The limited number of pork plants with access to the Chinese market also constrains export potential. Though, it is possible that more plants will be approved in time."