Defra has reported that clean pig slaughter in April was up by 1%, to 888,700 head, which keeps pig slaughter for the year roughly in line with the same period of 2018.
Higher carcase weights remain a theme, resulting in an increase in production for the year to April of 1% to, 311,000 tonnes. This increase is despite boar and sow slaughterings dropping sharply in April.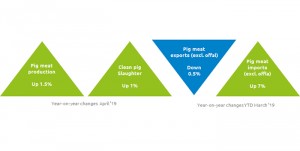 Meanwhile, trade data to March shows that imports of total pig meat (excluding offal) have increased in the year to date, which is thought to be Brexit positioning. Imports from Denmark, Germany and Ireland have all increased significantly year-on-year. Total pig meat imports in the year to March increased 7% to 237,000 tonnes.
Top 5 importing countries:
Denmark: 60,000 tonnes, up 11%;
Germany: 47,000 tonnes, up 8%;
Netherlands: 42,000 tonnes, down 3%;
Ireland: 30,000 tonnes, up 11%; and
Poland: 17,000 tonnes, up 6%.
AHDB analyst Tom Forshaw said: "UK exports of pig meat (excluding offal) were relatively stable in the first three months of the year, falling by just 0.5%. Increases to China and the Netherlands have offset declines to other markets, particularly Denmark.
"African Swine Fever is likely to keep Chinese import demand for pork strong. EU countries, including the UK, will be capitalising on this demand over the summer months, potentially lending continued support to prices here."