Lung disorders cause great economic losses in pig farming worldwide, so it's an area of great interest to the veterinary sector, writes Jos Thelosen. In the fight against enzootic pneumonia, Ceva Animal Health unveiled its new Mycoplasma hyopneumoniae (M hyo) vaccine, Hyogen with the adjuvant Imuvant, at a launch event in Barcelona at the end of September 2015. More than 300 participants from around Europe, most of them vets, attended the three-day seminar that took an in-depth look at the issues surrounding M hyo.
Pig lungs are better protected by vaccinating piglets once with the new vaccine than alternative treatments, Ceva's Dr Philippe Mazerolles told delegates at the Barcelona launch of Hyogen. This was because the strain of M hyo used in the new vaccine was much more modern than the strain in competing products.
"We have selected the virulent M hyo strain 2940 that was first discovered in 1999 on a US pig farm that was facing a severe outbreak of enzootic pneumonia," Dr Mazerolles said. "The 2940 strain on which our vaccine is based is now found in pigs on every continent in the world; competitive M hyo vaccines, meanwhile, are derived from a strain that's 50-years old."
Ceva has also developed a new adjuvant, Imuvant, to maximise the effect of its new vaccine. This means that a single injection, three to four days before weaning, will provide at least 26 weeks of protection against M hyo.
"Even though for practical purposes it makes sense to vaccinate the piglets during weaning time, the effectiveness of the new Hyogen vaccine is sufficient to last until the animals are slaughtered," Dr Mazerolles added.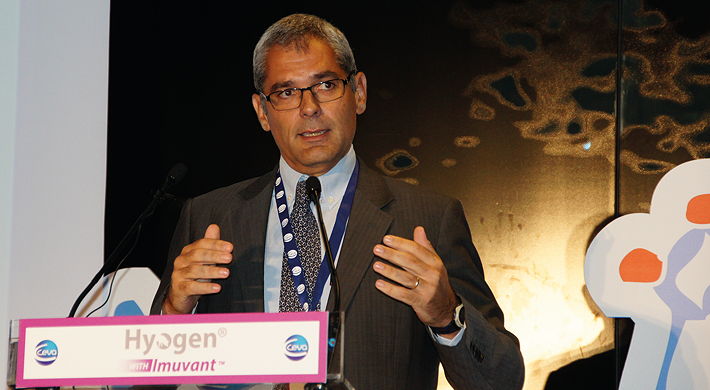 Overall the treatment has only recently been authorised in the EU, it has been allowed in Asian countries and in Russia since 2013; this means that Ceva already boasts plenty of practical experience with the new vaccine.Research in Europe also shows that vaccinated pigs grew on average 39g/day more than those that were untreated, while feed conversion was 0.11 better; dropping from 2.67 to 2.56.
"The pigs have healthier lungs, perform better and require fewer antibiotics," Dr Mazerolles said, and suggested that using the Hyogen vaccine will almost always pay off. M hyo is spread very easily through the air, and this means that the infection pressure is very high on almost all pig farms in Europe, especially in pig-dense regions.
"Virtually no pig farm can perform at its peak without a vaccination effective against M hyo," Dr Mazerolles added. "Not vaccinating with Hyogen means accepting you won't get the maximum return."
Effective protection
According to Ceva research and development scientist, Dr Zoltán Pénzes, it's not only the use of the virulent 2940 M hyo strain that sets the French company's vaccine apart from the competition, but the fact it features a novel adjuvant.
"Imuvant ensures that despite the very small dimensions of the M hyo bacterium, immunity is rapidly and effectively accumulated," he says. "Within three weeks of vaccination with Hyogen, 90% of the piglets will exhibit seroconversion and their lungs will be well protected."
The effect of vaccination also leads to a lower infection pressure on pig farms. Studies carried out by Dr Pénzes showed that the number of M hyo bacteria colonising pig's tracheas was reduced by a factor of 20.
"These animals also secreted significantly fewer germs to the environment," he added.
Trials carried out at three weeks of age comparing both vaccinated and unvaccinated piglets showed early benefits of using Hyogen.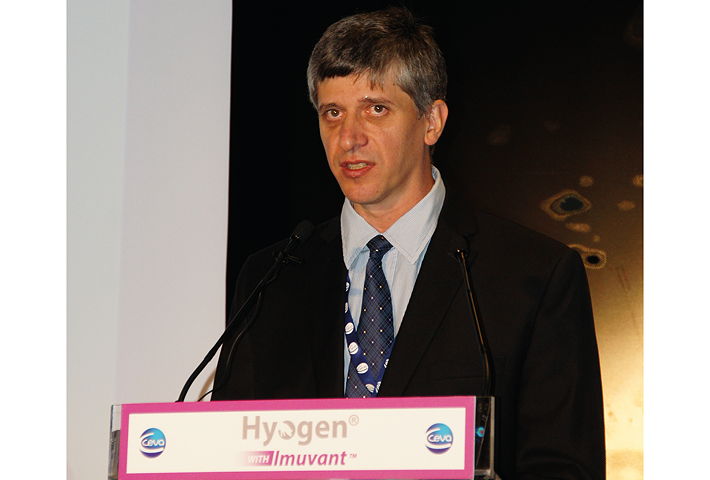 "Reactions such as lethargy or an increase in body temperature were not seen in the vaccinated piglets, allowing them to grow undisturbed," Dr Pénzes said.
At four weeks after infection, the lungs of all the test piglets were scored for the degree of lesions. Ceva has developed a special app for lung scores that vets can download to use in pulmonary research at the slaughterhouse on behalf of their clients. Seven distinct areas on the lungs are assessed for the degree of damage to the lung tissue.
The result was that piglets vaccinated at four weeks after infection had a significantly lower mean lung score in comparison with the non-vaccinated piglets.
"The airways and lungs were healthier and had ciliated epithelium intact and active," Dr Pénzes said, adding that the scores showed treatment with Hyogen to be more effective that another commercial M hyo vaccine. "Ceva has the right strain and has managed to combine it with the best adjuvant for the most effective M hyo vaccine."
The new lung scoring app will also allow pig producers to measure the effectiveness of the vaccine in their own herds.
"By firmly establishing the initial situation on the farm, the impact of an effective vaccination will be visible to the pig producer," Dr Pénzes added.