With expectations that the breeding herd has grown this year, AHDB Pork forecasts suggest that UK pig meat production is set to continue increasing in the coming months.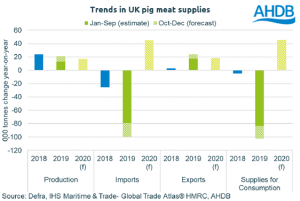 That said, reports of challenges to productivity this summer mean the supply increase may be limited early next year.
Overall, clean pig slaughter is forecast to increase by about 2% in 2020, compared to this year. Pig meat production is expected to rise slightly faster than slaughter, due to a further small rise in carcase weights. Again, this trend is expected to be biased towards the latter half of the year.
With strong demand from China and a weak pound, exports have increased again this year. Prospects remain good for 2020 as the ASF crisis continues, AHDB Pork said.
The sharp drop in imports means supplies available for consumption on the domestic market have been noticeably lower this year than last. Domestic demand has also been falling though, limiting the upward pressure on pig prices.
Bethan Wilkin, AHDB's senior analyst, said: "Supplies may recover a little in 2020 but will remain low by historical standards.
"Demand on the domestic market contrasts starkly with the export market at present, meaning they are increasingly competing for the same types of product. This may help support prices, but also risks further shorting the UK market."