Wiltshire farmer and popular Pig World columnist Cameron Naughton donned his pig onesie once again on Saturday, as 'three little pigs and the big bad wolf' abseiled down the local church to raise funds for the air ambulance. 
Cameron was joined by son Alasdair and his partner Hannah, also in pig onesies, and church warden, Wes, in the big bad wolf costume in the absence of Cameron's daughter Rachel, who had to drop out due to illness. The abseilers were joined by on the ground a Wiltshire air ambulance pilot.
"People continue to very generous and once we have added all the cash donations, we will have raised well over £2,000," Cameron said.
You can still donate HERE 
Writing on his Just Giving page, Cameron, who has abseiled down the church for charity before and performed a charity parachute jump, said: "Agriculture is a dangerous occupation and those who work in farming are often working in inaccessible and isolated places.
"The Air Ambulance has helped many people who live and work in the countryside so it is something many people in the industry including the our family want to support."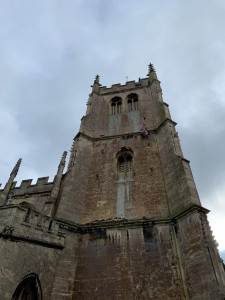 "Wiltshire Air Ambulance is a charity that provides an essential Helicopter Emergency Medical Service (HEMS) across Wiltshire and surrounding counties. It needs to raise £3.75m a year to continue saving lives, but is not directly funded by the Government and receives no National Lottery funding, so relies on generous public donations."
In his latest Pig World column, Cameron said: "Most of us in the farming community probably know somebody who's had to make use of the air ambulance so it's nice to be able to support them.
"It's about six years since it landed in our pig paddocks to airlift Pete to hospital when he'd hurt his back, my overwhelming memory of that day being the paramedics extreme reluctance to take Pete as he was plastered head to foot having fallen in a stagnant wallow.
"I also had to try to prevent the sows from tipping the chopper while trying to scratch against it! Fortunately, both Pete and the air ambulance made a good recovery."