EU pig slaughter for January fell a little compared to January 2018, according to data from Eurostat. This followed a 4.5% decline in December, although total throughput in 2018 as a whole was 1.8% higher year-on-year. Pig meat production was flat at 2.2 million tonnes in January.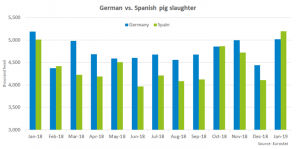 Production had been expected to fall little in the first half of 2019, based on recent census results. However, European pig prices have increased dramatically in recent weeks, as export demand has been increasing ahead of supply, and so there are now strong incentives to put down more sows.
AHDB's lead analyst Duncan Wyatt, said: "Spain, the region's second largest producer, increased slaughter 3.7% year-on-year in January, following a 4.7% annual increase in 2018. Processing capacity in Spain is expanding dramatically, and this trend is only expected to continue."
Mr Wyatt said that Spain is well placed to take advantage of the current market conditions and some reports expect production to increase 10% this year.
"Slaughter in Spain overtook that in Germany again in January," he added, "although pig meat production was behind. Germany, recorded a 3.4% drop in production in January, following a drop of 2.2% in 2018."