The European Union recently signed a trade agreement with Japan, enabling its members to benefit from lower duties on some pork products, including frozen pork and ground seasoned pork (GSP), from April 2019.
Even if the UK does not stand to gain directly after Brexit, increasing the potential of this outlet for European production could bring indirect benefits to UK farmers. It is also the ambition of UK government to replicate as many European Free Trade Agreements as possible.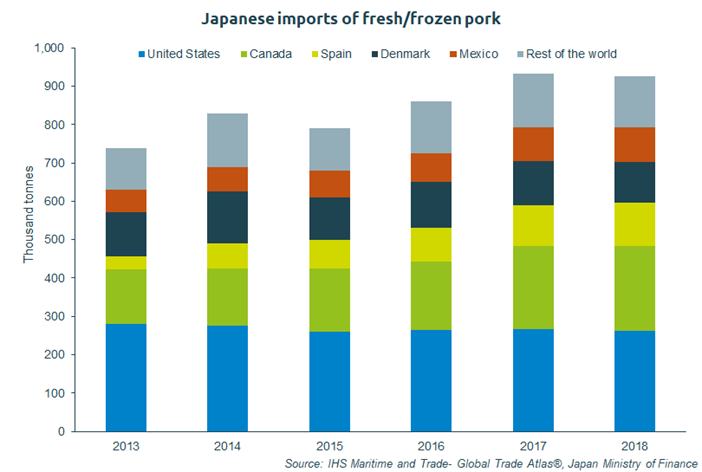 Duncan Wyatt, AHDB Pork's lead analyst, said: "Japan is a large and important market for pig meat, and is set to remain so in the long term. Japan consumes about 2.5 million tonnes (cwe) of pig meat each year, and only produces about half of this domestically. The OECD is not forecasting growth in demand, so any increase in EU exports would need to be won by taking market share from others.
"The Comprehensive and Progressive Agreement for Trans-Pacific Partnership also improves access conditions for Canada and Mexico, so competition for a share of the Japanese market will continue. However, the US, which supplied 35% of Japan's pig meat imports last year, does not as yet have a free trade agreement in place, although negotiations have been announced."
Mr Wyatt said that growing market share will undoubtedly be a challenge, but AHDB's recent Country Focus Report lends some valuable insight into how UK exports could gain a footing in the Japanese market.
"UK exports to Japan increased last year, but volumes remain small, accounting for less than 1% of our overall pig meat export volume," he said. "
"Japan is a market concerned with high quality, healthy, safe food. This provides an ideal audience for marketing UK pork, which moves through a highly regulated and traceable supply chain. Japan's notoriously strict food safety and import controls regime may even translate into a positive message to other countries, regarding the safety of UK products."