Trade this week was tempered by poor demand in all areas, according to the Slaughter Pig Marketing Summary from Thames valley Cambac.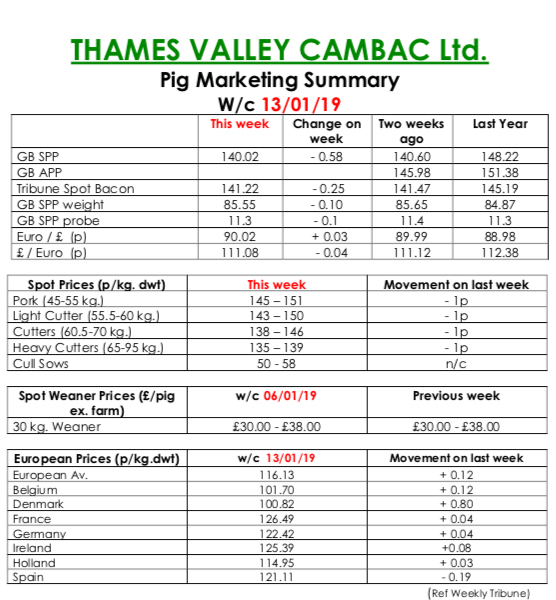 The current vogue for "Veganuary "and other meatless diets cannot be helping demand in what is generally a poor month for sales. Supply matched this poor demand however, with very few pigs remaining unsold. Contract price contributions generally stood on but one monthly quote was forecast to fall sharply.
The SPP continued its downward slide falling 0.58p to 140.02p – a level not seen since October 2016. The fresh meat markets were quiet – not surprising for mid January, and prices generally eased a penny or so. The cull sow supply volumes remained healthy and prices stood on.
European markets continued to show stability with the influential German market standing on for the 10th consecutive week. Price quotes in sterling were enhanced slightly however by a stronger Euro that ended the week up 0.03p at 90.02p.
The Weaner Marketing Summary, for week commencing January 6, reported that supply remained relatively tight with some producers starting to see the effects of poor conception rates from last summer's heat wave. Demand was steady however with high feed costs being a major concern for many fatteners.
The prices announced by the AHDB saw the weighted average for 30kgs stores rise by £2.80 to £47.34, and the weighted average for a 7kg weaner rise by 45p to £36.07.