Bridge House Farm in Northamptonshire is a family business that has become the first UK farm to partner with Canadian genetics company Genesus. Simon King met Charlie Thompson, the sixth-generation member of the family to run the farm
A Northamptonshire farming family is embracing new technology as it throws itself into an exciting new partnership producing nucleus stock for Canadian genetics company Genesus. The original acreage of Bridge House Farm was bought by the Thompson family from the Althorp Estate, and has been in the family for six generations. The business comprised around 2,500 acres of arable alongside a free-range laying enterprise.
The pig unit was built in 1987 – the same year Charlie Thompson was born. His father, Robin, was looking for different opportunities, which resulted in a purpose- built nucleus unit being erected, originally for Newsham Hybrids.
Charlie said: "Where we are in the country there is a very low pig density, which allows us to be very high health, as there is less pressure from pig units around us. We take maintaining our biosecurity very seriously. Anyone coming to the unit showers in and is 72 hours pig-free. We try to limit the number of visitors altogether."
In 1993 the farm doubled in size, up to 650 sows, the current size of the unit.
"Every extra person coming on to the farm is a risk to us"
In 2016 Robin was looking for a new opportunity and started a conversation with Paul Anderson, from Canadian genetics company Genesus.
Bridge House Farm now keeps two of Genesus' three lines, a Yorkshire dam line and the Genesus sire line, which is a Duroc. The Landrace dam line is also available in the UK.
Charlie said: "Dad was really impressed with the simplicity of the system, with only one sire line and two dam lines, which allows us to test far more animals to keep the genetic progress as fast as possible."
The family signed a contract with Genesus and then destocked the farm by February 2017, before embarking on a six- month process to get it ready for the first arrival of pigs from Canada. Charlie, a vet by trade, returned to the family business after eight years in practice just as the transfer to Genesus was starting.
He said: "We deep-cleaned the buildings and it was a good opportunity to renovate and invest in new facilities. We knocked down what was left from the original build in 1987 and built 2,000 new grower places and 2,000 new finisher places – all part of a £1.2 million investment in the business." Walking around the pens, there is no evidence of docked tails.
Charlie said: "When we started with Genesus, we were committed to no tail docking – to be able to finish a pig all the way with a long tail is pretty unusual. The Genesus Durocs, in particular, are very placid."
The farm operates on a weekly farrowing system and aims to farrow 27 pigs a week. As a dam line, the Yorkshire sows average 16 born per litter. The Durocs are a pure- bred sire line, bred as a terminal sire to be crossed for optimal growing and finishing performance, and as such produce, on average, 10 born per litter.
Charlie said: "Both breed lines have shown a great appetite for eating creep pre-weaning. This has translated into far better weaning weights and a more robust pig at weaning. Although numbers born are lower in the Durocs, we have had piglets born at 2.5kg that are weaned at 12.5kg 25 days later.
"The more we can get them to eat before we take the milk away, the easier the transition is to get along without mum and the milk. We are pushing them to eat as much as possible in the farrowing house, which means when they're weaned, they run straight onto feed without a check."
NUTRITION TAKES A CENTRAL ROLE
The indoor unit has 72 grower and 72 finisher pens and these are fed via eight feed silos, using what is thought to be the largest (144 pen) Roxell Multifast system in the UK.
Charlie said: "We have been working closely with various nutritionists in order to feed genders and breeds of pigs differently and according to their average pen weights. Genesus has great nutrition and intake data from Canada, which was our starting point.
"We wanted to monitor whether the pigs could perform to the same level on European cereal-based diets. The Roxell tailors every pen's feed to try and get the maximum performance. We want to provide the best environment for these pigs to show off their genetic potential."
Every feeder has a sensor in the middle constantly checking the hopper level. The system knows which 'curve' that pen is on (based on breed, gender and average weight) and when the level drops below the sensor, it will then mix up an individual batch of feed (25kg for the growers and 40kg for the finishers), tailored for that pen and then automatically deliver it.
The system runs 24 hours a day and weighs what it delivers, so calculating FCR per pen is straightforward.
Charlie said: "We can have pens of Duroc gilts next to pens of Yorkshire boars and deliver tailored diets to each. The system also means that there are no sudden changes in feed, with diets changing minutely every day, resulting in a very smooth transition throughout the growing period.
"Compared to the previous traditional diets that we fed in our old system, we are saving 5p per day per gilt on the farm. This doesn't sound like a lot, but it adds up massively over a lot of pigs and across 365 days a year.
"The access to FCR data is revolutionary as this allows us to ensure we are making the most of our most expensive cost – feed. High-performing Duroc boars will be at an FCR of 1.6:1 in the growing period (20-60kg), and then go from about 2:1 at 60kg to 2.5:1 at 120kg."
The unit employs eight full-time staff and Charlie said the aim was to streamline the basic jobs so that staff can spend more time with the pigs. The process involves creating a more skilled environment where the business can retain and recruit skilled staff.
"We want to create a team with a balanced quality of life, so we can balance out the night checks and the weekend work. We want to develop a good, interchangeable team that can share the tasks around the farm," he added.
SCORING FOR INTRAMUSCULAR FAT
The 'end point' for nucleus pigs is 'off- testing', at which point every pig is individually weighed and has a detailed ultrasound scan taken.
Charlie said: "We ultrasound scan every pig to measure backfat, the thickness of the loin, intramuscular fat and a range of other parameters. We record intramuscular fat with a view to improving eating quality.
"If contracts for improved eating quality become available to commercial producers (as some are already in Canada) then the Genesus Durocs in particular are strong carriers of the marbling genetic trait, leading to a more succulent, tasty end product."
The data generated on-farm means it is possible to select different boars for specific customer requirements.
Charlie said: "Genesus felt it was key to have nucleus pigs on the ground in the UK in order to demonstrate that their genetics can perform on UK diets, to UK slaughter specs.
"They also felt it enabled them to better serve the UK market, a market it sees as key for its growth and as an entry point into Europe, Asia and North Africa.
"At 20 weeks of age, our pigs are approximately 20kg heavier than they were previously. In 2019, depending on the number of breeding stock sales, we will put somewhere near 12,000 pigs to slaughter through the system."
PRODUCING PEDIGREE STOCK
Bridge House Farm is now producing the pedigree stock for Genesus at the top of the pig production pyramid, which then feeds down to AI studs, multiplication and commercial units.
Charlie said: "A unit the size of our farm will provide the genetics, I'm told, for about 60,000 commercial pigs, that's why it's really important that we keep our health status high.
"We keep purebred animals, which means commercial producers get the massive advantage of heterosis when they cross these, which gives them great production and health advantages. But someone has to do the purebred work, which is what this unit was built for.
"Everything we do is around individual animal management and we have to be able to identify the top 1 to 2% of the animals we breed in order to push the genetic improvement forwards as rapidly as possible. This allows us to identify very high-performing boars."
Unit manager Andy Brown said: "Our genetic turnover is fast. Our aim is 25 matings and the boar is finished – that can be as fast as three weeks. Sow turnover is rapid with a target replacement rate of 120%. While it's expensive, the faster you turn them over, the faster the improvement in the genetics and performance."
With Genesus, the farm is achieving a conception rate of more than 90%, versus a rate of 85% previously. Of the 650 gilts that were brought to the farm from Canada, only five didn't produce a litter; 40 boars were also brought to the farm from Canada.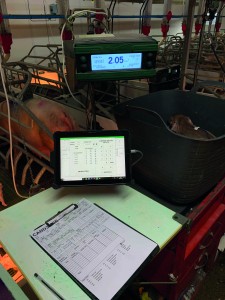 TECHNOLOGY DRIVES THE BUSINESS
Bridge House Farm is using UHF EID in all animals from birth and industry consultant Dominic Charman has worked on an integrated scanning and weighing solution that automatically captures data – by simply scanning the tag, the individual weight is logged into an Excel speadsheet.
Dominic said: "Weighing every individual at birth provides an additional data point for selection and ensures that individual birthweights of piglets are included as a figure for both breeding and finishing pig performance."
Charlie added that as a result of having the UHF EID technology, data accuracy has 'massively improved'. On top of this the weighing tasks have become far more efficient and less fiddly with jobs taking around half the time to complete than before using EID.
"When we're individually reading tags and weighing hundreds of pigs a week, no matter how careful you are, mistakes will creep in," he said. "But now the ID is read by the computer and saved into an Excel spreadsheet, it can't be read incorrectly.
"Dominic has done a lot of work with us developing a custom-made software package, so that we can record how the pigs are performing going forwards. We are probably the first farm in the world to be tagging and weighing every piglet at birth and weaning through an automated system.
The electronic ID costs 41p per animal and is purchased with a custom numbering system. The UHF EID is based on a standard 3mm male button tag and weighs barely more than the normal tag. "Tag losses have been less than one per 2,000 pigs, which is very impressive as they are put in minutes after birth," Charlie said.
He is aiming to use the electronic ID system to run an inventory of the location of every pig in the system, although this is still a developing area.
He added: "We could run hundreds of pigs down a corridor and read every single tag. UHF EIDs have the power to be used for mass movement of pigs (as UHF reads multiple tags unlike LF tags), which from a commercial pig producer perspective is where the value comes in."
The final piece of the puzzle, Charlie added, will be to have the individual ID feedback information provided from the abattoir.
"This is something that we hope can be integrated in the near future," he said. "That way we can use real life carcase feedback to develop the breeding stock even faster to what the market wants."
Under Genesus guidelines, every animal is individually recorded at birth, when they receive three forms of ID, which is important for monitoring the performance of every animal.
Charlie said: "We can't do anything until we've ID'd every piglet born and guaranteed the parentage – everything for us has to happen as soon as possible after birth to provide an accurate birth weight and to ensure the genetics of the dam and sire can be tracked through the system."