The second in our series of in-depth features on tail biting, AHDB highlights the importance of gathering and assessing data and then continuing to review it
There's no silver bullet to tackle tail biting, as every pig producer and vet knows. However, AHDB has defined a clear series of steps to take which should help producers, their vets and the AHDB team get to the root cause of any issues – learning together how to successfully reduce the risk of tail biting on different units.
It is offering extra help for all producers to take another look at tackling this complex problem by taking one step at a time. This is not only in light of the distress it causes to pigs and the people looking after them and the related productivity issues, but also the Government's moves to more strictly enforce the legislation which says that, before farmers dock tails, they must take other measures to prevent tail biting.
This approach requires ongoing commitment to the process which is to: record, assess, act and review (see Figure 1, below).
Kate Mellor, senior knowledge exchange manager at AHDB, said: "If this becomes a continuous cycle, repeated as part of the pig's routine management, there is a much stronger chance that producers can reduce the risk of tail biting, reduce the number of cases and, importantly, keep it that way.
"There is no one-off solution that will solve the problem once and for all. It will likely involve a number of things that need adjusting over time, which will be different for each farm. "Recording any early warning signs of tail biting is really important. We need to keep a close eye on what the pigs are telling us through their behaviour and keep notes on it all, so we're able to make as accurate a risk assessment as possible and choose the most effective actions to improve things."
AHDB has tools and guidance to help at each stage and has started working with two new Strategic Farms who want to reduce tail biting, with additional support and knowledge from pig farming specialists. The aim of the Strategic Farms, an AHDB Farm Excellence programme, is to demonstrate and learn how new systems can work on commercial farms and get that information out to other producers to help them in their businesses too.
So the producers will be following the process and AHDB will share, anonymously, how they are getting on, including any changes the producers decide to make and their impact over the course of the coming year.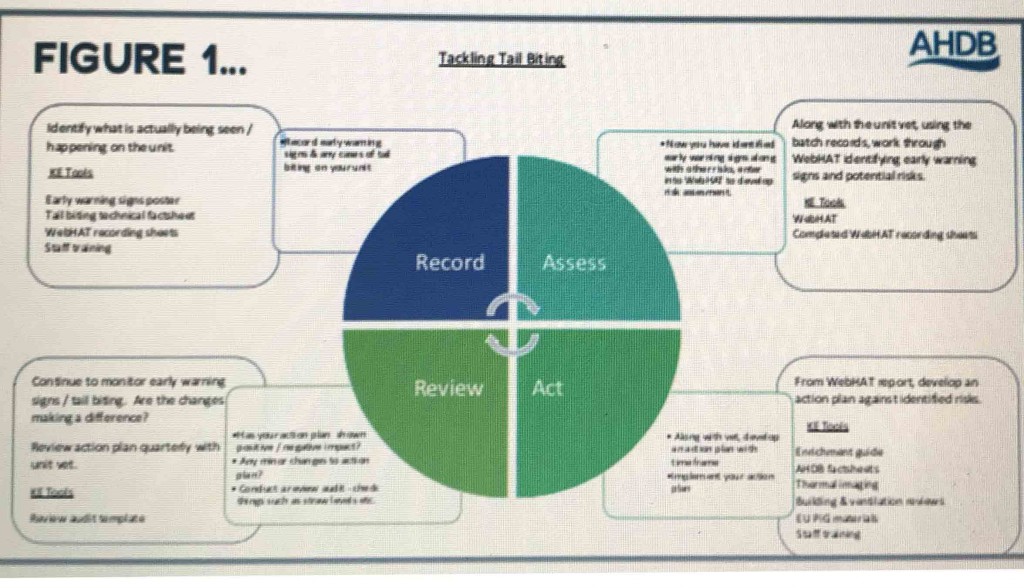 The producer who manages Strategic Farm A said: "It is well understood that tail biting is multifactorial. If we can improve our finishing farms to eradicate or reduce the impact of one or two of those factors then maybe we can reduce the incidence of tail biting."
HELP AVAILABLE
AHDB's webHAT (online husbandry advice tool) provides information and guidance to supports the process to record, assess, act and review. It's also crucial to ask the farm vet, who should be involved throughout.
The webHAT has posters which summarise the early warning signs of tail biting, along with template recording sheets available to download. Plus, producers can use the webHAT's risk assessment section to build a risk report specific to their farm, which offers suggestions on how different risk factors can be reduced. Mrs Mellor said: "It will be most useful when you have to hand some records on how
the pigs are behaving along with details of management changes and when they were made."
FIRST STEP
The first step is to help make sure that when the team on farm are checking the pigs, everyone knows all the possible early warning signs of tail biting and has a simple method and place to keep a record.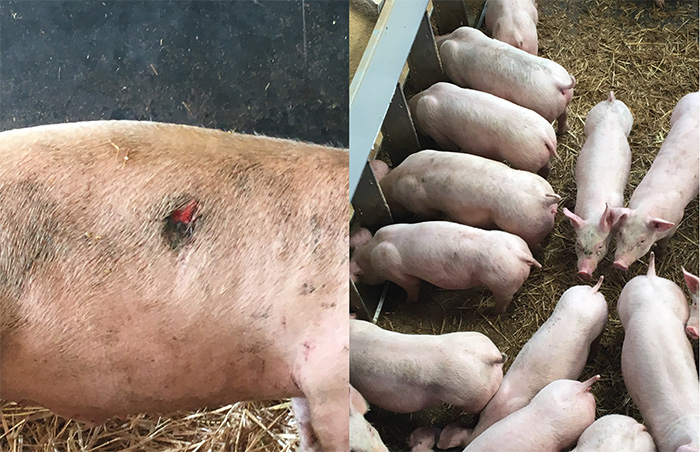 Mrs Mellor said: "Regular recording will be time well spent, whatever the detail agreed next spring in the Welfare Codes about exactly what is required for producers to comply with legislation. It's written evidence of proactivity towards reducing tail biting.
"This obviously helps to provide detailed documentation for future inspections, as well as building up a detailed picture of pigs' behaviour to start working out where the key risks that are causing it might be.
"The pigs themselves give a lot of clues which, as stockmen, you instinctively know are a sign that a problem might be brewing. Then, if you start recording these signs over time, it's easier to see any patterns emerging, whether within particular pens or throughout a building.
"We've got some A3 laminated posters to help train stockmen, showing what the early warning signs of tail biting are, which are particularly useful for new starters.
"The simple recording sheets we've designed make it easier to keep a record of what warning signs are seen and when and any actions take to try to reduce the risk.
"There is a general recording sheet which can be filled in on a batch-by-batch basis and there's an alternative, more visual one, to which producers can add a plan of the building, so they can record the early warning signs within the individual pens. This provides a different option, easy for all stockmen, regardless of language, to identify problem pens and common early warning signs."
The signs include tails being tucked under, ear and body lesions and pigs chewing on other pigs. Stockmen might also notice restless or agitated pigs, mouthing other pigs without necessarily injuring them or an individual pig which is being avoided by others (a potential bully).
More Information
Visit: webhat.ahdb.org.uk
Contact your knowledge exchange manager by clicking HERE
Order free 'early warning signs' posterby emailing details to [email protected]