Better sow health, better quantity and quality of colostrum, and better piglet birth weight and liveweight gain are all proven benefits of feeding Actigen. But to fully realise the advantages this natural product brings to pig production, it also needs to be used throughout the growing and finishing stages, where feeding Actigen has also been shown to improve growth and weight, and also carcase yield.
Growing pigs face inevitable health and welfare challenges, even in the most well-managed units. Salmonella and E coli cause scouring and illness, and invisible fungal growth in feed and bedding can lead to the exposure of pigs to mycotoxins that cause a variety of problems, from poor fertility and lower piglet numbers to ill thrift and poor feed conversion. The resulting immune responses to all such diseases have a considerable negative effect on feed intake and, as a result, performance.
"Pig health revolves around the development and maintenance of the intestine," explains Alltech's European pig specialist, Terry McArdle. "Intestinal bacteria play a vital role, from regulating cell turnover in the gut wall to eliminating pathogens. Actigen stimulates the growth of good intestinal bacteria which encourages the development of intestinal villi, through which nutrients are absorbed, resulting in a healthier digestive system.
"Actigen also binds and removes harmful pathogens from the gastrointestinal tract. Its use as a feed supplement at the grower finisher phase has been widely investigated and consistently proven to be of value."
Improving FCR
In a 2012 trial to evaluate Actigen's performance on grower/finisher pigs taken from 20kg to 100kg, two equal groups of 220 were fed starter, grower and finisher diets with the treatment group receiving the control diet plus 400g/t of Actigen in all three feeds, fed ad-lib. Measurements included growth, feed intake, feed conversion and mortality. The results are shown in table 1.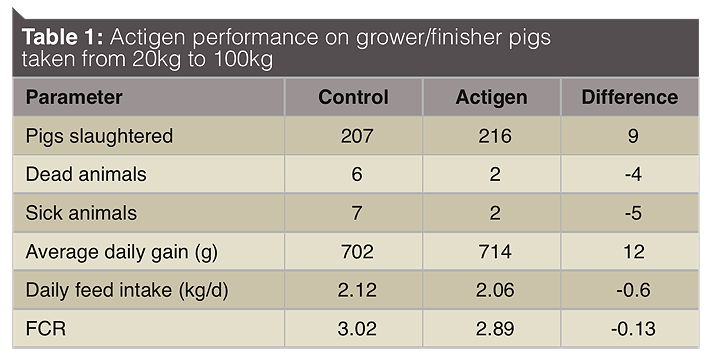 Two pigs in the control group died because of gut health issues, and to combat this problem, the drinking water for the control group was acidified in the week concerned; two courses of antibiotic treatment were also administered to the control group. No acid or antibiotics treatments were needed for the Actigen group.
"Including Actigen in the diet led to a higher growth rate of 12g/day and higher end weights of +0.8kg, yet feed intake was 60g/day lower, giving a feed conversion improvement of 0.13 (or 0.10 when calculated in the 20-100 kg liveweight growth range)," Alltech's UK technical support specialist, Lauren Dimmack, says. "This improvement clearly indicates better nutrient uptake in the gut."
Profit over feed was €873 (£656) higher for the Actigen group, leading to an increase in profit of €4/pig (£3.10/pig), a return on investment of 6:1.
Improved immunity
The ability of Actigen to enhance intestinal health by contributing to the healthy immune status of pigs has also been clearly demonstrated. In a trial on 64 weaned pigs, split into two groups, both were challenged with porcine reproductive and respiratory syndrome virus (PRRS) with one treatment group being fed the control diet plus 0.04% Actigen.
Infection with PRRS decreased pig performance. However, Actigen-fed pigs infected with PRRS showed increased feed efficiency and a raised immune response with an increased number of PRRS-specific antibodies.
"These findings confirm that Actigen strengthens both the immune response and feed efficiency in the face of diseases such as a PRRS challenge," Mr McArdle says.
Growth promotion
Actigen has an equally vital role to play as a growth promoter in situations where antibiotic growth promoters, and substances such as copper and Tylosin in animal feed, are monitored or prohibited.
In an 80-day trial involving a total of 960 grower/finisher pigs, taken from 28kg to slaughter at 100kg, animals were allocated to four diet groups:
Base diet – standard vitamin and mineral premix, no additives.
Copper: Base diet +200ppm of copper (800g/t of copper sulphate).
Actigen: Base diet + 400g and 200g/t Actigen in the grower and finisher phase respectively.
Tylosin: Base diet + 40g and 20g/t Tylosin (160g and 80g/t of Tylan 250) in grower and finisher phase respectively.
In the grower phase (day 0 to 38) pigs fed the Actigen diet produced a superior growth response to those offered the control diet or the diet containing copper. The Actigen group achieved the best feed conversion in both the grower and the finisher phase (see Table 2). Improvements in carcase yield were also seen in the group fed Actigen.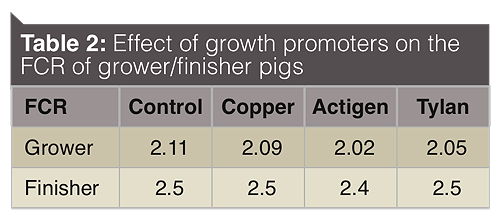 "While the dietary treatments didn't significantly influence the carcase weight of pigs – the Actigen group recording only a 3kg advantage over the controls – the dietary treatment did influence the carcase yield," Ms Dimmack says. "Those pigs offered the Actigen diet had a higher dressing percentage at 75.33% than those receiving the other diets, increasing the yield of saleable pork, and this was achieved without any negative influence on backfat thickness, with all groups recording normal low values of 9.0 to 9.3mm."
Cost benefit
In a cost benefit analysis based on the improvements in carcase yield, the net advantage for pigs offered Actigen was approximately five times greater than either copper or Tylosin at $7.88 (£5.24)/pig (see Table 3).
"Similarly the return on investment in this study was substantially greater for pigs offered Actigen at 15.3:1," Mr McArdle says. "This reaffirms the value and versatility of this natural, yeast-based feed supplement. It promotes healthy growth, improves immunity and feed conversion, and is an equal, if not superior, alternative where copper outputs are monitored or antibiotic growth promotants are prohibited.
"It allows pig producers to maintain the economic advantages of efficient, lean growth."