Leptospirosis is a widespread, zoonotic disease that affects pigs, people and a host of other mammals, vet John Hayden BVSc MRCVS of Integra Veterinary Services, examines the condition and what can be done to control it
There are more than 160 species/serotypes of leptospirosis, including L. interrogans, L. pomona, L. canicola, L. icterohaemorrhagica, L. australis and L. hardjo, each requiring a certain host to exist and proliferate. Many animals, such as rats, field mice, deer, cattle and dogs, act as hosts, becoming permanent carriers of infection, capable of excreting the organism in their urine for as long as they are infected.

Several types of Leptospira can affect pigs and in the UK a number of strains have been implicated in reproductive losses and infertility in many herds. However, pigs only act as maintenance host for two species: L. bratislava and L. pomona.
The clinical signs of a leptospirosis infection are not that obvious, while the symptoms – mainly infertility and reproductive failure – can be similar to those seen with other infections such as porcine reproductive and respiratory syndrome (PRRS) and porcine circovirus type 2 (PCV2).
Leptospirosis spreads via contact, entering the body through mucous membranes (eyes, nose, mouth, prepuce and vagina). Infection can be transmitted directly from pig to pig, or by exposure to contaminated urine or water. It's worth noting that Leptospira bacteria can survive in water for up to 30 days and that supplies can be easily contaminated by rodent droppings and urine. Therefore, some consideration should be given to where a herd's drinking water comes from and to ensuring that reservoirs are protected from any potential contamination.
In young pigs, an infection might produce signs of illness, with more acute cases causing jaundice, fever and sometimes death. In mature adult animals, however, it can be difficult to detect and more insidious. The organism readily colonises in renal tubules, which quickly leads to the persistent excretion of more spirochetes in the pigs' urine.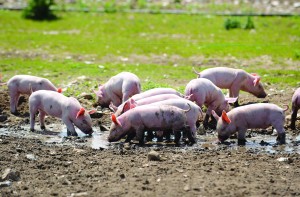 In the case of L. bratislava, an infection will also affect the uterine tubules, where it can cause inflammation and blockage of these tubules, resulting in conception failure, early embryonic death, abortions, stillbirths and neo-natal disease. In boars, persistent infections can be found in the genital tract, enabling easy transmission to sows during mating. The infection can also be transmitted in semen collected for artificial insemination (AI) unless antibiotics are used to control it.
The pigs' immune response to infection usually produces a rapid increase in antibodies at 10 days post-infection, peaking at around 21 days. Blood tests taken from a proportion of sows on a farm will often reveal low levels of leptospirosis antibodies, indicating that disease has been circulating. However, a L. bratislava challenge can be difficult to isolate as antibody concentrations are not easy to detect three months post-infection. Leptospira bacteria is also difficult to culture in the lab and it might take between six to 12 weeks to confirm test results. Dark-field microscope techniques can identify spirochetes in the urine of carrier sows, semen and aborted foetuses.
The lepto lowdown
• Once leptospirosis is introduced into a herd, the pigs become permanent carriers of infection and will intermittently excrete the organism in their urine. L. bratislava can also permanently inhabit the fallopian tubes of sows and the reproductive organs of boars and can be transmitted in semen
• Leptospirosis can be a very difficult disease to diagnose because – in most cases – infected pigs do not exhibit clinical signs of disease
• Positive serological tests do not necessarily mean your herd has the disease, but they can indicate that pigs have been challenged by infection at some stage and have responded by producing antibodies. However, if infertility is a problem and clinical observations suggest leptospirosis as a cause, such indicators would support a diagnosis. Even so, it's worth remembering that antibody levels can fall rapidly and can be difficult to detect in certain cases
• The symptoms of leptospirosis can be mistaken for other causes of infertility, including: chronic PRRS, endometritis, non-infectious causes, summer infertility, management failures
Be proactive to minimise risk and control
Typically, a herd with a leptospiral challenge would show decreased conception rates, vaginal discharges post-service, high numbers of three- to five-week returns to service, pregnancy losses in sows that were previously scanned as pregnant, increased abortions and smaller litter sizes.
Using AI to reduce the risk of venereal infection from boars to sows, tightening rodent control and minimising the contact between pigs and other wildlife and livestock will help to reduce the risk of contracting disease.
Ensuring water supplies are clean, by using chlorination, will also cut down potential water-borne infections.
Controlling any concurrent immuno-suppressive infections, such as PRRS and PVC2, will also lessen a leptospirosis challenge.
The treatment and control of this disease has traditionally relied on antibacterial medications, using tetracycline. Usually, the whole breeding herd is treated – the objective being to reduce the potential for carrier pigs to exist in a particular population. To be effective, re-treatment is required every four to six months to prevent reinfection. However, with the UK pig industry now focused on reducing antibiotic use, herds are being encouraged to protect pig health by immunisation. Several leptospirosis vaccines are available, some of which are multivalent and will cover other diseases such as parvovirus and erysipelas, too.
Herds that choose to introduce a leptospirosis vaccination programme must initially vaccinate their sows twice, with the first dose given soon after farrowing and followed by a second dose three weeks later at weaning. Boars should also follow this two-dose regime, with each vaccination administered three weeks apart. Once the initial programme is complete, all breeding females should then be vaccinated every cycle, with boars vaccinated every six months. Any replacement stock, both boars and maiden gilts, should be routinely vaccinated at six and three weeks before first service, followed by further booster vaccinations given every cycle from then on.
In my experience, herds that choose to protect their pigs from leptospirosis by vaccination generally see a reduction in the levels of infertility due to this disease and a subsequent improvement in numbers born. Also, if antibodies are detected during routine serology, it is prudent to begin a vaccination strategy to control the spread of infection, minimise any further reproductive loss and maintain optimal sow productivity. Producers also have a duty of care to protect pig sector workers from this disease, as carrier pigs are a potential source of leptospirosis infection for stockmen, abattoir staff and anyone coming into contact with them.