The extent to which the entire pig sector – producers, vets, feed companies and their representative bodies – have bought into the drive to reduce and refine antibiotic usage is not in doubt.
The big unknown, however, is how much further we will be required to go. This summer, industry and government representatives will agree new antibiotic reduction targets for each UK livestock sector.
The National Pig Association (NPA) is now seeking the views of its members, ahead of what will be definitive discussions for the industry.
The background
The link between antibiotic use in human and animal medicine and the increase in resistant bacteria (AMR) has long been a concern, but it was brought sharply into focus in May 2016 with the publication of a government-commissioned report by Lord Jim O'Neill.
Warning that AMR could result in 10 million deaths a year by 2050 unless action is taken, the report called for co-ordinated measures on a global scale to address the problem. It made a series of recommendations, including, for livestock:
• 10-year targets to reduce unnecessary antibiotic use in agriculture
• Restrictions on certain types of highly critical antibiotics
• Improved transparency from food producers on antibiotics used in livestock.
In September, the UK Government outlined how it intended to take the recommendations forward, including setting a target to reduce antibiotic use in livestock and farmed fish to a multi-species average of 50mg/kg
by 2018. This represented a 19% reduction from the 2014 figure of 62mg/kg.
Government figures published in November 2016 showed the livestock sector was well on course to hit its 2018 target, with overall antibiotic sales down 9% to 56mg/kg. Sales of products licensed for pigs and poultry were down 10%, with pig-only products 24% lower.
Sector targets
In the wake of the O'Neill report, the Responsible Use of Medicines in Agriculture (RUMA) alliance announced it was setting up a Targets Task Force, made up of representatives from across the various sectors, to help facilitate the setting of sector-specific targets.
RUMA secretary general John FitzGerald said: "The Government confirmed in September, while it was setting a cross-country, cross-sector average target for the UK, it would be working with the different sectors as they identified their own targets by the end of 2017."
Following a 'kick-off' meeting before Christmas, the task force, observed by the Veterinary Medicines Directorate (VMD) and the Food Standards Agency, has been working on the sector-specific plans. Its next meeting is due in April. Formal talks with the VMD will begin in June, with each sector required to have a plan in place by the end of July.
Pig producers are represented on the task force by NPA chairman Richard Lister, with veterinary input being provided by Mark White for the Pig Veterinary Society.
Mr FitzGerald said it was too early to say what the targets might eventually look like for the pig sector and stressed their development is 'very much owned by each sector'. "We have recognised that a combination of qualitative and quantitative measures looking at antibiotic use and health and welfare may be required," he said.
How will the pig targets be set?
The targets will be based on usage, rather than sales, and set from a 2015 baseline using industry-wide data collated on the eMB-Pigs database. At the time of writing, 2015 data representing 59% of finishers was on the system and, with 60% expected to be hit soon, the 70% mark loosely set as the target to provide an accurate industry estimate was getting closer.
Mr Lister praised the efforts made so far and stressed the drive will continue. He said: "We are now getting a fairly strong feeling of where the 2015 figure might be and, providing we can agree on that with the VMD, we can try and set a target for reduction. We can set the target over any time period we wish, so we will probably be looking at three to five years."
Calculating the figures
The reduction target is likely to be stated as a percentage and there is an agreement in principle to use the ESVAC method of calculation used across the EU.
This uses the milligrams (mg) of active antibiotic in a product and a Population Correction Unit (PCU), an estimate of average weights in the herd at the time of treatment.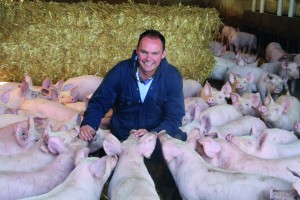 Weaners are given an average weight of 24kg, finishers 65kg and sows 240kg. Mr Lister said this method was chosen – rather than basing the calculation on liveweight sold – as it would enable comparison across the EU. It will also enable producers to benchmark progress against similar unit types, he said.
"The standard weights won't fit for everybody but, in terms of the overall target, they will not be a million miles away."
Industry views
Mr Lister said: "Getting these targets right is absolutely critical for our sector, which is why we are going to consult as widely as possible within the NPA membership, so as an industry, we can come to a figure that is challenging but achievable.
This is going to be a focal point of our spring regional meetings and we urge all NPA members to come along."
Your views needed
The NPA is seeking your opinion on the following:
• What do you think is achievable as an antibiotic reduction target for your business?
• What time frame should the reduction plan cover? Is three to five years sensible?
• Should we also be looking at other targets, for example, specific restrictions on Critically Important Antibiotics or on how antibiotics are administered to pigs?

To respond, email: [email protected] or go to the NPA forum at: www.npa-uk.org.uk

\Please state if you wish your views to be public or private, as NPA will be starting a public discussion on antibiotic targets on its forum.
Antibiotic progress means there's nothing to fear
While deeply concerned about the longer-term impact of the likely zinc oxide ban, Mr Lister said the pig sector should have little to fear from the antibiotic targets, given progress made over the past year or so.
"Pig people are getting on board with the message that the industry needs to reduce and refine antibiotic use and are already showing the courage to change.
"The VMD has worked well with the industry in terms of developing eMB-Pigs and getting the messages across. Between us there is an understanding that, while there is a very definite need for us to reduce usage, we must not lose sight of the fact that the health and welfare of livestock will always be paramount," he said.
Mr FitzGerald said: "The pig sector, hampered by the challenges of being in an extremely competitive market which is very susceptible to cheap imports, has shown exceptional progress," he said.
He highlighted the NPA's Antibiotic Stewardship Scheme, progress made with eMB-Pigs and 'tangible moves to reduce use of antibiotics' as examples.