A new £200 million export deal with China, announced in August, represents another chapter in the success story of UK pork exports.
The deal approves exports from two major slaughter facilities in Northern Ireland – Cranswick's Ballymena plant and Karro's Cookstown facility. Significantly, the Chinese authorities have agreed to allow imports of trotters from the two plants, a long-term UK industry goal. A third plant – Cranswick's Hull facility, already approved for export to China – has also been approved to send trotters.
In addition, exports will now be permitted from five independent cold stores across the country, in Suffolk, Lincolnshire, Derbyshire and two in Northern Ireland.
The first shipments were due to go out within a month, with volumes expected to build up gradually over time, and eventually be worth another £200m to the industry over the next five years, supporting 1,500 jobs.
The deal further reiterates China's faith in UK pigmeat standards and marks the culmination of concerted joint government and industry efforts to convince the Chinese authorities sufficient controls, systems and traceability are in place at the plants, including numerous visits to China on top of plant audits by Chinese inspectors in 2015.
How China has driven pork export growth
* In 2007, total UK pigmeat exports totalled less than 150,000 tonnes, with China accounting for less than
2,000t. The EU share was 85%
* Last year, total UK pigmeat exports reached a 17-year high, topping 318,000t, 9% up on 2015
* Exports to China jumped to 76,000t (including 36,000t of offal), compared with 54,000t in 2015 and
delivered a 47% increase in value to £74m
* China became the UK pork industry's biggest export destination last year, overtaking Germany and Ireland
* The EU accounted for 57% of exports
* Pork is now the UK food and drink industry's ninth biggest export product.
Food and Farming Minister George Eustice described China as a 'hugely important market for our world-class food industry'.
Nine UK plants, all belonging to Cranswick, Tulip and Karro, were already licensed to export pork to China, which has largely driven a surge in UK pork exports that has seen volumes double over the past 10 years.
In reality, however, UK exports to China and beyond still lag behind our larger EU competitors, partly due to supply constraints. Data from the International Trade Centre ranks the UK 16th in the pork exports league.
But having previously focused mainly on domestic consumption, the UK industry has now very much moved into the global market, with the aim of getting the right cuts into the right markets, according to AHDB international market development director Phil Hadley. AHDB estimates that exports currently add approximately £30 to the value of each pig, based on the ability to extract, for example, an extra 30p/kg for a particular cut.
"With strong demand for certain cuts at home, such as loins, our exports are about making sure we place those products not in strong demand domestically in the best paying markets," Dr Hadley said. "Trotters aren't consumed widely across the world, so to access a market where they are considered to be a quality product means we can unlock some of that latent value in the pig carcase.
"It's the same with ribs to the US because that is where the value is. It is about thinking of the carcase of being made up of 300-400 different cuts with 100 different markets,
and trying to deliver the best return in individual markets at any one time."
Top 10 pork exporters
1. Germany: US$4.3 billion
2. United States: $4.2bn
3. Spain: $3.6bn
4. Denmark: $2.6bn
5. Canada: $2.4 bn
6. Netherlands: $1.8bn
7. Brazil: $1.3 billion
8. Belgium: $1.3 billion
9. France: $878.6 million
10. Poland: $837 million
16. UK: $344.6 million
(1.3% share of total)
Other non-EU export destinations for the UK in 2016 included: Hong Kong, the US, Japan, the Philippines, Ivory Coast, South Africa, South Korea and Singapore.
As the UK negotiates its future outside the EU, new opportunities await. Dr Hadley said: "It is a constantly changing marketplace – we have to look at what other markets are out there and for what products."
Customs arrangements
In mid-August, the Government published its intentions for the UK's post-Brexit customs arrangements. The ambitious paper proposed a transitional period for up to three years after we leave that would closely mirror current arrangements and avoid a 'cliff edge' scenario for businesses. It also set out longer-term ambitions for a customs relationship that would see the UK benefit from 'frictionless' trade with the EU, while seeking new trading relationships across the globe.
The plans for a transition were welcomed by farming organisations but the paper raised as many questions as it answered, including whether the EU will ever accept a deal that would allow the UK to effectively pick and choose the elements of EU membership it desired while also benefting from new global trade deals, as well as major concerns over the Irish border and immigration. Where we will end up remains very much unresolved.
Imports dwarf exports
* EU imports still account for more than half the pork consumed in the UK
* More than 970,000t of pigmeat, virtually all from the EU, were imported last year, 8% up on 2015
* Imports were up by a further 23% in the first six months of this year.
Future trading scenarios
A paper by the UK Government-funded Food and Agricultural Research Policy Institute (FAPRI) looking at the impact of various trade scenarios, shed some interesting light on what it could all mean for farming.
Free trade agreement: The first option was a bespoke FTA with the EU that maintains current tariff and quota-free EU-UK trade and the current tariff structure with the rest of the world, albeit with an estimated 5% of additional EU trade costs due to extra border paperwork and checks. The paper forecast this would have little impact on farmgate pig prices (same) or production (+1%).
WTO default: If an FTA could not be agreed, either due to insufficient time or because it hampered the UK's global trade ambitions, the WTO default option could see most-favoured nation (MFN) tariffs imposed both ways on UK-EU trade. There would be no change to tariffs or quotas with the rest of the world and an estimated 8% additional EU trade costs. These tariffs can be very large and this scenario would, on balance, benefit sectors that were net importers, as it would create big barriers to EU imports. The pig sector would derive the biggest benefit. The paper predicted an 18% hike in prices and a 22% rise in production, resulting in a 44% increase in pork output value. Too good to be true? Probably. Politically, this scenario is unlikely to be a long-term solution as it would push up consumer food prices.
Unilateral Trade Liberalisation: So what if, in the absence of an FTA, MFN tariffs were applied to UK exports to the EU but the UK did not impose them on imports coming the other way or from the rest of the world (again with 8% EU trade costs)? This is an extreme example but there are supporters of a 'hard Brexit' who believe the benefits in terms of lower import prices would outweigh any negative impacts on UK businesses. According to the modelling, pig prices would take a 12% hit, with production down 6%, resulting in a 17% contraction in output value, albeit not as severe as the impact on the beef (-50%) and sheep (-36%) sectors.
The paper, which admittedly does not take into account all the potential complexities and nuances of future deals, should nonetheless be seen as a further warning of the damage a post-Brexit cheap food agenda could wreak on British food and farming.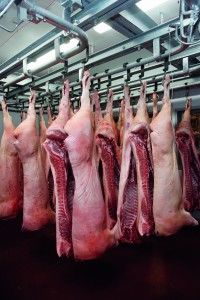 Selected current EU tariffs applying to
non-EU imports
* Fresh/chilled carcases and half-carcases – €53.6/100kg
* Fresh/chilled bone-in hams and cuts – €77.8/100kg
* Fresh/chilled bone-in shoulders and cuts – €60.1/100kg
* Prepared or preserved hams and cuts – €156.8/100kg
National Pig Association (NPA) senior policy adviser Ed Barker said the analysis highlighted what was at stake for the pig sector, particularly if the UK fails to negotiate an FTA with the EU.
"Default WTO tariffs could benefit the pig sector overall, but would still significantly damage certain trades, such as sow carcase exports to Germany," he said. "The policy is unlikely to be politically acceptable as it would load a major price increase onto consumers.
"But a scenario where we faced new EU tariffs, but tariffs were removed from imports would be extremely damaging for the UK farming industry, threatening incomes and undermining our high standards, and is something the NPA and the wider farming community would fight all the way."