Andrew and Ruth Davies are farmers, innovators, pioneers, marketeers and, above all, passionate about what they. Helen Brothwell met the 2020 Marketing Initiative of the Year Award winners.
A willingness to try new things, a love of people and hospitality and an understanding of how to harness the benefits of social media are the key drivers behind Cwmfarm Charcuterie Products, owned by Andrew and Ruth Davies.
Winners of the Marketing Initiative of the Year Award at the 2020 National Pig Awards, they are an inspirational team who have created a unique range of charcuterie products using pork from their herd of 44 Saddleback and Large Black sows. Ambition, hard work and pure determination have also played a large part in their success.
After 18 years working in carpentry and education, the couple decided to go back to their farming roots and, 10 years ago, bought a 40-acre farm and two pregnant Gloucestershire Old Spot sows, just four weeks away from farrowing. "I like to jump straight into things!" said Ruth. "We started by selling fresh pork boxes but we wanted to find something else that would be more profitable."
The turning point for Ruth was when a Welsh government grant funded a week-long trip to Denmark where she worked on a 52,000-pig unit, learning about practical pig husbandry and how they made their own salami snacks. "The company really inspired me and I decided that's what we would do."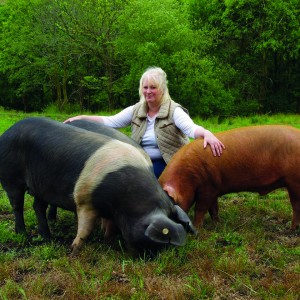 They then set out on two simultaneous initiatives. One was to start up their Poacher's Pantry mobile catering, selling hot pork rolls and bacon sandwiches to local people. This generated the income they needed to start learning how to make salami and helped pay for a space at Food Centre Wales and for a food technician to work with them.
Cwmfarm now operates successfully in both the catering and retail markets, with about 25% of their business in catering. "My heart is in hospitality," Ruth said. "I love talking to people, I like to cook and entertain and I love creating something new. We want to give customers something different, look after them and make them want to come back for more.
"About nine years ago, we went to the Royal Welsh Show with the Poacher's Pantry selling sausages and burgers and the Scarlets rugby team ate it all! The week after, they asked us to do their catering at the ground. We now run their catering kiosks serving hot food for match days and also sell a range of our charcuterie products along with other local speciality foods."
They have made a lot of mistakes along the way. "It has been one step forward and two steps back, but we've always made sure that we have a good, differentiated product."
Welsh salami
People's reaction to the idea of Welsh salami was often disbelieving in the early days – but that was a good thing as they wanted to make something bespoke that would stand out. It took 18 months initially to learn the basic art of making salami and start developing their own charcuterie range.
The most successful product has been their original Laverbread Salami, an idea of Andrew's, which won international recognition with a gold award at the Taste Olymp Awards in Athens last summer.
"We're still learning all the time. Before the pandemic, I was going to Tuscany every couple of years to learn from charcuterie masters there. I worked with five different masters to find out how to make nduja then came back and made our own, tailoring the recipe to use Welsh-grown chilli.
On the farm, the pig breeding developed, alongside the products. They also tried Iron Age, Tamworth and Middle White pigs. "The Middle Whites were my favourite for taste but they were a bit too lean for salami, plus the farm is high up and they didn't cope so well. The Large Blacks and Saddlebacks work well for us, with more back fat for the charcuterie products. They're slow growing and we rear them to two years."
They also work with other local farmers supplying lamb and beef for their products. The aim remains to produce top-quality charcuterie, with no gluten and as natural as possible, that appeal to high-end customers.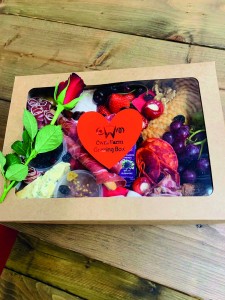 They have a new product about to be sold through Selfridges and, in the past, have delivered charcuterie hampers to HRH Prince Charles as well as 10 Downing Street and a number of British embassies around the world, including Canada, Denmark and Spain.
Global appeal
Over the last four years, the business has seen a huge increase in sales via both exports and national orders. As soon as they can, they'll pursue potential export contacts made before the pandemic at Welsh government trade events such as Taste Wales.
People and contacts have played a big part in Cwmfarm's success, and promotion of the brand has been tireless. Ruth recalls an occasion in the early days of the business when she was asked by the British ambassador in Helsinki whether you could make venison salami.
She went home, made a venison salami and sent it to the ambassador as a surprise and, as a result, it went on the menu for delegates at embassy events. The ambassador shared a photo of the salami with colleagues in the other embassies worldwide, which prompted custom from the Belgian and Dutch embassies.
It taught Ruth what can be done via social media. "From our small Welsh village we can be heard across the world. I have used social media at every opportunity to tell everyone about our products and what we're up to."
Ruth keeps the personal element of the brand going by including video content with a great sense of fun as she believes people respond well to a real, personal approach. A favourite among Twitter followers featured Ruth singing 'Buy a little salami off me!'
Changes of plan
The Davies have always been ready to respond to new opportunities or challenges and the lockdown this winter triggered a shift in tactics. They tapped into the gifting market with a very successful range of Christmas hampers, which were easy to post.
This brought in new customers and they're still getting orders for birthday gifts. Ruth puts together a selection of their own charcuterie products and local cheeses, chutneys and drinks from other producers. Cwmfarm is one of 10 companies in the Fine Foods Cluster, which work together to market their produce.
And since Christmas, they have launched a new grazing box of charcuterie products for people to eat at home while they can't go out. January also saw the introduction of another new product, Sheriff's Biltong, targeting the health and fitness market, for which they have teamed up with Scarlets rugby player Ken Owens.
Educating at home and abroad
Last spring, the business moved to a 4,000sq.ft unit, four times as big as Cwmfarm's first premises, giving them the space they desperately needed for increased production and storage, with help from a grant from the Welsh Government Rural Business Investment Scheme.
Over the next year or two, the Davies plan to develop the unit so they can run classes for local people on how to make their own sausages and bacon. Ruth is passionate about helping people understand where their food comes from.
From the foyer, customers can see Andrew and Ruth working, while the drying chambers are all on show in glass cabinets. A local art student painted a striking full-wall mural, which welcomes people to the premises, showing the real people and story behind the brand.
Developments will also include a hospitality room for functions that could double as a training room for hire.
Meanwhile charcuterie masters in Italy have asked Ruth to lead some online teaching sessions for Italian students. Being asked to do that by the people who have taught her was one of her proudest moments.
 This article was originally featured in Pig World magazine which you can subscribe to here: https://www.pig-world.co.uk/subscribe