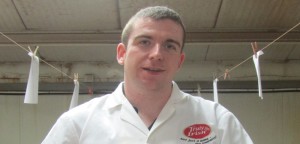 2017 was a successful year for Irish pig farmers as pig prices peaked at €1.70/kg at the height of last summer, writes Shane McAuliffe (pictured). Unfortunately the good times seem to be all but a distant memory following six months of stagnant prices and spiralling feed costs.
Producers are now receiving an average of €1.40/kg for their pigs and have been since the last price drop in January. While we normally welcome a stable market, it's not good when this is 10 cent/kg below the average cost of production.
It has been too much to handle for some farmers and there are reports of some closing their farm gates or taking the opportunity to destock their herds.
The cost of pig feed has increased by an average of €25/ tonne and farmers are now losing as much as €10 per pig sold. Traditionally we see an increase when we get into the second quarter of the year, but even this, combined with a spell of good weather, has failed to shift prices upwards.
EU pigmeat supplies are up 1.2%, while increased production in 2017 led to a 2% increase in our breeding herd, which has left a knock-on effect of there being 5% more pigs on the ground this year.
In terms of Irish pigmeat exports, 2017 was another record year. The overall volume rose by 3% to 247,000 tonnes, which is worth over €700m. Exports for the first quarter of 2018 have seen a 4% increase from 63,000t to 65,400t. UK exports are down 6% and Chinese exports are down 12%, but this has been offset by an increase of 74% to Japan, South Korea and the Philippines (7,200t).
Bord Bia, the Irish Food Board, had a recent successful trade mission to China and received news that the last remaining key pig processor in Ireland has achieved export approval.
The recent 20% tariff that Mexico has put on US pork shoulders and legs has led to Mexican Minister Ildefonso Guajardo saying they will import more pork products from Europe. Bord Bia are working hard to secure access for Irish pork into Mexico, which is welcome news.
Pressure has been coming on Ireland, as with all other EU countries, to eliminate tail docking.
The Department of Agriculture, Teagasc (our agricultural development authority), the Irish Farmers Association and pig herd veterinarians are working together to explore the options. I visited Switzerland last month to attend the European Pig Producers Congress and visited pig farms where tail docking ended in 2008.
Along with Sweden and Finland, the Swiss are using a lot of straw as enrichment. Straw is out of the question in Ireland due to having 100% slatted floor systems.
Two of my own farms are taking part in a pilot programme, working with Department of Agriculture veterinary inspectors, to carry out risk assessments with a view to raising pigs with intact tails. I did my own trial involving 600 pigs and I must say I have been somewhat pleased with the results. I recently started a part-time role as swine business manager with Easyfix, a manufacturer of environmental enrichment products for pigs.
I noticed that not only did the products reduce the incidence of tail biting, but giving them to piglets in the farrowing house reduced other vices.
It is important to note that tail biting is multi-factorial and enrichment alone will not prevent it. Air quality, levels of lighting, health, diet, pen structure and competition all play a part. The pilot programme should provide a valuable insight.
For quite a substantial number of farms, eliminating tail docking will lead to a bigger welfare concern and the country will need a lengthy transition. New housing will need to be built and stocking rates will need to decrease – but how can this be possible in the current price crisis?
Shane McAuliffe's family produces 50,000 pigs per year for the Truly Irish brand. He is secretary of the Irish Pig Health Society, secretary of the Irish branch of the Euro- pean Pig Producers and sits on the Irish Farmers Association National Pig and Pigmeat committee. Shane is currently studying part-time for a Masters in Pig Health and Production with the Royal Veterinary College