The latest Pig World Veterinary View comment on a very topical subject comes from Christina Huelsmann-Diamond, who joined Garth Pig Practice Ltd in 2017. She is one of a team of 10 vets and is based in East Yorkshire.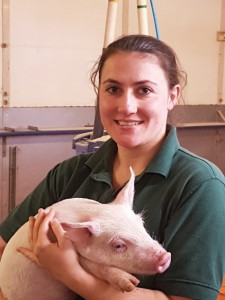 The #ColostrumIsGold campaign, being launched by the Responsible Use of Medicines in Agriculture (RUMA) alliance, reminds us of the importance this 'liquid gold' plays in achieving the ambitious antibiotic usage reduction targets set for us last year.
Colostrum is the only source of antibodies for the naïve piglets. Inadequate colostrum intake is often the trigger of many pre-weaning diseases and it may even be involved in some post-weaning diseases that we often medicate for. Colostrum is also a great source of energy needed by the newborn piglet to keep warm in the first few hours. The quality of the colostrum relies on the exposure of sows and gilts to the bugs we want to protect against.
Vaccination of sows can greatly improve the quality of colostrum and protect the piglets against diseases we see in the farrowing house, such as scour. In order to receive those all-important antibodies, piglets must suckle freshly farrowed sows for a minimum of around 40 minutes over multiple feeds within first 24 hours of life. The most effective absorption of antibodies occurs within six hours of birth, and then capacity decreases.
The observational skills of the stockman should not be underestimated when considering good colostrum management. The udders of recently farrowed animals need routine examination for heat, swelling, pain and milk let down. 
It is also of utmost importance that the piglets are observed to be suckling. If there are piglets struggling to find or latch onto a teat, they need to be manually assisted.
Getting enough colostrum into piglets in the first few hours of life is more challenging when litter sizes are large, the number of teats available being a limiting factor.
In these cases, split suckling can aid colostrum intake greatly. Separating the litter into first-born piglets and latter born piglets, then allowing each group separate suckling time for 60 minutes, will significantly increase the chances of all the piglets receiving the colostrum quantity required in the correct timeframe. This is best achieved by enclosing the first-born group within the warm creep area while the latter-born group suckles and then switching the groups round multiple times before re-mixing the litter.
Fostering timing should be carefully considered. Fostering is a great tool to even up litters, load up gilts and give smaller, weaker piglets a better chance. However, it should be avoided until colostrum has been suckled off the piglets' dam, as research has shown that antibodies work better when they are from the birth mother. Piglets should have suckled at least four times for a total of 40 minutes before they are fit to be transferred onto another sow.
Colostrum is valuable but, like gold, which requires time and effort to mine, colostrum requires time and specific management to make full use of its potential.