EU pig meat production returned to year-on-year growth in July and, at 6%, the increase was larger than in the first half of the year overall. Output totalled 1.91 million tonnes during the month.
The overall growth was due to a combination of heavier carcase weights and the slaughter of more pigs. Throughputs were up 5%, compared with the same month last year, at 21.1 million head. Estimated daily slaughterings were also the highest since April, indicating supply levels were also greater than in the previous two months.
Overall, the total number of pigs killed in the year to date reached 150.5 million head, 3% more than in the first seven months of last year. Pig meat production was also up 4% year-on-year across this period, at 13.9 million tonnes.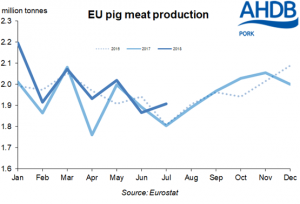 Rising Spanish pig slaughterings were the key driver behind the uptick in EU pig meat production growth in July. Throughputs were a substantial 11% (430,000 head) above year earlier levels during the month, the highest annual growth rate since April. The Netherlands also recorded a significantly higher kill (+14%, 156,000 head), as did France (+7%, 126,000 head).
However, Germany, the largest EU pork producer, recorded a 1% decline (-32.000 head). This reflects a trend recorded throughout 2018, as while the majority of EU states have slaughtered more pigs so far this, German slaughterings are down 1%.